Hasbro's 2Q Net Drops 16% Amid Plunging Sales of Toys for Boys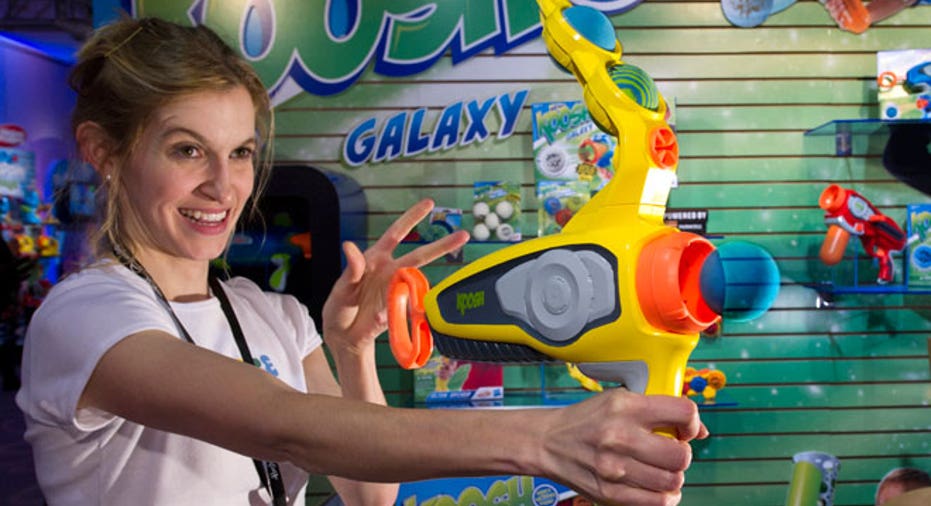 Hasbro (NYSE:HAS) revealed a 16% drop in second-quarter profits and weaker-than-expected adjusted earnings on Monday as the G.I. Joe and Nerf maker was hit by diving sales of toys for boys.
The earnings miss from Hasbro mirrors a gloomy report from rival Mattel (NYSE:MAT), which last week spooked Wall Street with a 24% decline in profits amid weak Fisher-Price Sales.
Hasbro said it earned $36.5 million, or 28 cents a share, last quarter, compared with a profit of $43.4 million, or 33 cents a share, a year earlier.
Excluding one-time items, it earned 29 cents a share, trailing the Street's view of 34 cents.
Revenue slid 6% to $766.3 million, missing consensus calls from analysts for $794.7 million.
Hasbro said its boys sales plunged 35% to $253.7 million, significantly underperforming expectations for $340.1 million, according to StreetAccount estimates. The company cited tough comparisons with the year-earlier period due to major movie releases in 2012.
Games and puzzles sales jumped 19% to $255.4 million, while girls sales soared 43% to $149.4 million, beating forecasts for $230.4 million and $116.2 million, respectively.
"Through our global brand building efforts, we are taking steps to drive long-term profitable growth across our brand portfolio," Hasbro CEO Brian Goldner said in a statement.
Separately, Hasbro and Walt Disney (NYSE:DIS) on Monday announced plans to expand a strategic merchandising relationship for major entertainment properties. As part of the deal, Hasbro's rights to Marvel characters were expanded by two years through 2020 and the toy maker will guarantee an additional $80 million in royalties to Disney.
Shares of Pawtucket, R.I.-based Hasbro fell 2.6% to $44.20 in premarket trading Monday morning, positioning them to trim their 2013 rally of 26%.