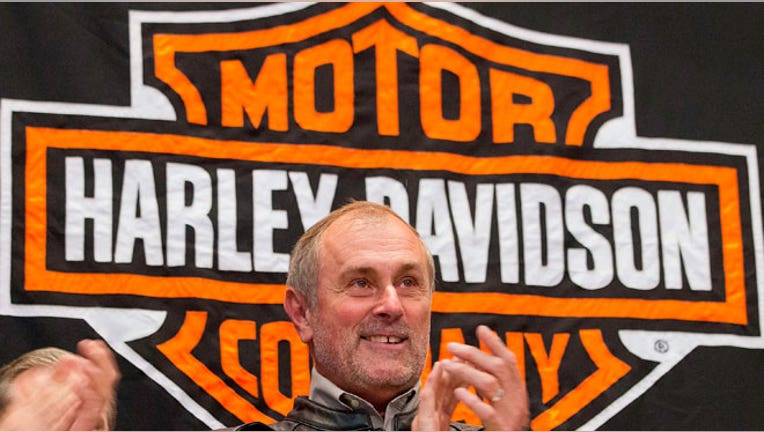 Harley-Davidson's (NYSE:HOG) third-quarter earnings fell 7.7% as the company shipped fewer motorcycles.
The bottom line still beat Wall Street estimates by a wide margin, and retail sales in the U.S. surpassed strong results in the year-ago period. Harley-Davidson shares revved 5.6% higher to $61.62 in recent trading.
Harley-Davidson said Tuesday it booked a profit of $150.1 million, or 69 cents a share, compared to $162.7 million, or 73 cents a share, in the same period a year earlier.
Revenue slipped 4.2% to $1.13 billion, slightly below the consensus view of $1.14 billion. Analysts were looking for per-share earnings of 59 cents.
Harley-Davidson had planned on cutting motorcycle shipments in the third quarter. A year ago, the launch of Harley-Davidson's Project Rushmore touring bikes lifted demand. For the latest period, the Milwaukee-based company sent a total of 50,670 motorcycles to dealers and distributors, a decline of 6.2%. That matched the company's forecast.
U.S. retail sales climbed 3.4% year-over-year to 50,167 units. Worldwide, dealers sold 73,217 motorcycles, up 3.8%. Harley-Davidson cited the rollout of 2015 models, which began in late August.
In July, Harley-Davidson reduced its full-year outlook for shipments to between 270,000 and 275,000 motorcycles. The company previously estimated shipments of 279,000 to 284,000.
Polaris Industries (NYSE:PII), whose Indian Motorcycle brand competes with Harley-Davidson, is scheduled to report earnings Wednesday.