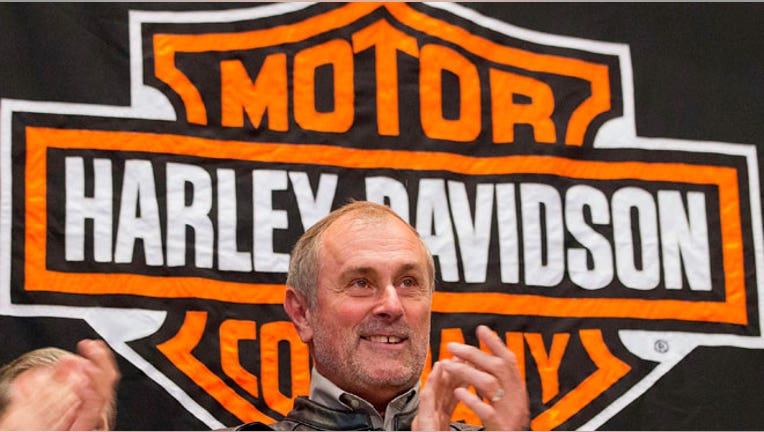 Harley-Davidson (NYSE:HOG) said Tuesday its third-quarter net income climbed 21%, as the motorcycle maker saw improved demand in the U.S. and logged sales gains across all regions.
The Milwaukee-based company reported a profit of $162.7 million, compared to $134 million in the year-ago quarter. On a per-share basis, earnings climbed to 73 cents from 59 cents.
Revenue revved 8.4% higher to $1.18 billion.
Analysts were nearly right on target, with consensus estimates calling for per-share earnings of 73 cents and revenue of $1.17 billion.
Rising home prices in the U.S. have helped lift demand for motorcycles. Harley-Davidson, which launched its 2014 bikes in August, has also made an effort to attract a wider customer base.
U.S. dealers sold 48,529 motorcycles in the third quarter, a 20% gain over the same period last year. Unit sales jumped 16% in Latin America, and the Asia Pacific region posted a 10% increase.
Total motorcycle shipments rose 2.3% to 54,025, in-line with the company's projection of 51,000 to 56,000.
CEO Keith Wandell said the response to Harley-Davidson's 2014 motorcycles "was extremely positive."
"In fact, initial retail sales of the new Project Rushmore motorcycles sparked the largest year-over-year new model year sales increase in two decades," he added.
Also on Tuesday, Polaris Industries (NYSE:PII) beat Wall Street expectations and raised its guidance after posting $1 billion in quarterly revenue for the first time.
Sales at the company's motorcycle division, which includes the Indian and Victory brands, fell 6% due to weaker international sales and a limited number of new 2014 Indian bikes that began shipping during the third quarter.
Polaris, also known for its snowmobiles and off-road vehicles, said the overall industry strengthened in the latest period, with North American heavyweight cruiser and touring motorcycle sales rising 20% year-over-year.
Harley-Davidson shares fell 1.3% to $64.68 in recent trading. Polaris was down 5% at $129.30, paring gains of around 62% on the year.