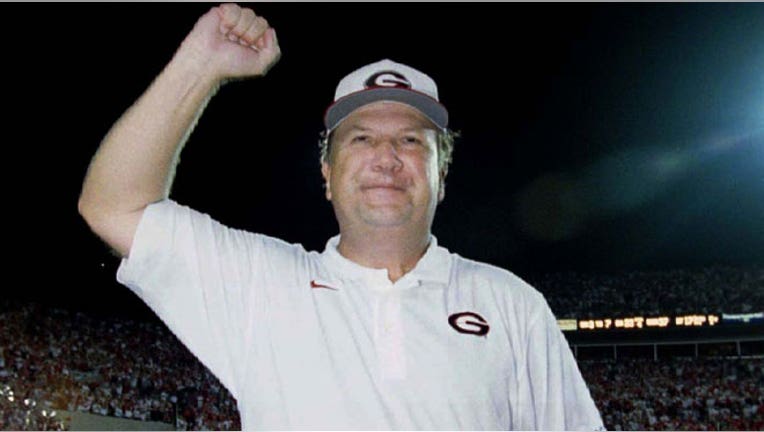 A College Football Hall of Fame inductee and the former head coach at Marshall University and the University of Georgia faces fraud charges for allegedly running an $80 million Ponzi scheme that roped in other prominent college coaches and some of his former players.
The Securities and Exchange Commission announced the charges Thursday against Jim Donnan, who is accused of luring in investors by selling them high-yield, short-term securities and promising returns ranging from 50% to 380%.
Donnan, who recently worked as a college football analyst at ESPN, a unit of Walt Disney Co. (NYSE:DIS), ran the fraud with a business partner named Gregory Crabtree through a West Virginia-based company called GLC Limited, according to the SEC's complaint.
Among the high-profile investors in GLC were former University of Oklahoma and Dallas Cowboys coach Barry Switzer, Virginia Tech football coach Frank Beamer, Texas State football coach Dennis Franchione and Texas Tech football coach Tommy Tuberville, according to court documents related to the case obtained by ESPN, which first reported the allegations earlier this month.
Donnan coached Georgia from 1996 to 2000 and won a national title as the coach of then-Division I-AA Marshall in 1992. He was an assistant under Switzer at Oklahoma in the 1980s.
In the SEC suit announced Thursday, Donnan is accused of funneling large sums of investor proceeds to two of his adult children and a son-in law. Each of Donnan's children allegedly invested relatively modest amounts in the scheme and then received "regular streams of payments for a substantial duration of the fraud," according to the complaint.
An attorney for Donnan couldn't immediately be reached for comment.
Donnan and Crabtree allegedly told investors that GLC was in the wholesale liquidation business and earning big profits by buying leftover merchandise from major retailers and then reselling the stuff to discount retailers.
"Donnan and Crabtree convinced investors to pour millions of dollars into a purportedly unique and profitable business with huge potential and little risk," said William P. Hicks, Associate Director of the SEC's Atlanta Regional Office, in a statement.  "But they were merely pulling an old page out of the Ponzi scheme playbook, and the clock eventually ran out."
The SEC complaint alleges that between August 2007 and mid-October 2010 Donnan and Crabtree raised a total of about $80 million from 97 investors.
Donnan is believed to have recruited the majority of the investors using contacts he made as a sports commentator and former college football coach, according to the SEC.
Donnan allegedly told a former player, "Your Daddy is going to take care of you" and "if you weren't my son, I wouldn't be doing this for you." The player later invested $800,000, according to the suit.
Using the tried and true methods of the Ponzi scheme, Donnan told investors that if GLC had more money it could participate in more "deals,"and generate more profits for investors.
In nearly every instance, according to the complaint, Donnan assured investors that their funds would only be used to buy specific merchandise and that the merchandise had already been "presold" so that there was little or no risk to investors.
Donnan also assured new investors that he was investing along with them in any deal that he offered, and bragged that he and other prominent college football coaches had successfully and profitably invested in GLC, the complaint alleges.
But Donnan was simply using new investment funds to pay off earlier investors, the classic Ponzi scheme. According to the SEC, of the roughly $80 million raised from investors, only about $12 million was used to purchase merchandise and much of this merchandise was left unsold and abandoned in warehouses in West Virginia and Ohio.
The remainder, or approximately $68 million, was used to pay fake returns to earlier investors or was misappropriated by Crabtree or Donnan.
Donnan, with Crabtree's help, continued to raise new investor money even after both of them knew that GLC could not make the return payments that had been promised, the complaint states.