Half of Houston homes, businesses hit by flooding may be uninsured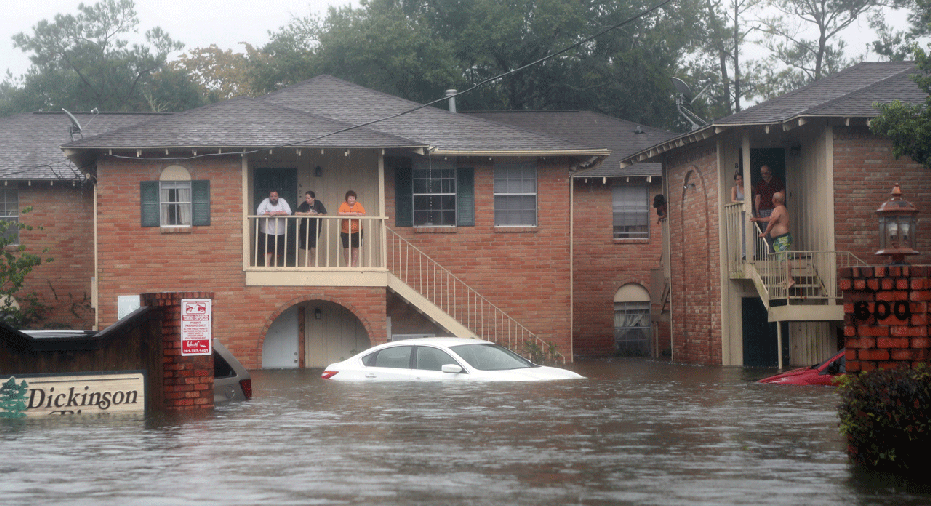 As rescue and recovery efforts continue in areas of Texas, some of which have received up to 30 inches of rain so far, a new report suggests a large portion of the affected residents may not have flood insurance.
In the Houston metro area, 52% of homes or commercial properties currently at a high or moderate risk of flooding are located outside of FEMA-designated Special Flood Hazard Areas, according to global property analytics firm CoreLogic. Only individuals with properties located within flood hazard areas are required to purchase flood insurance. This could leave many people in the area with serious financial challenges after the storm clears out.
People with flood insurance usually buy policies backed by the federal government's National Flood Insurance Program. That program already owes the U.S. Treasury Department more than $24 billion from previous disasters.
Experts are projecting damages from this storm to be significant. Initial estimates for wind damage alone suggest insurance claims could reach as high as $6 billion, according to The Associated Press.
Earlier this month CoreLogic said home prices in four metropolitan areas – including Houston – were overvalued, deeming the current trajectory of prices unsustainable. At the time, the company said in a statement it saw "no end to the [price] escalation in sight."
On Monday, Fannie Mae said more than 36,000 homes with mortgages it guarantees were in areas heavily affected by Harvey. Those homes had about $5.1 billion in unpaid balances. In the wake of a natural disaster, a mortgage servicer may temporarily suspend or reduce a homeowner's dues for up to 90 days if the servicer believes the value of the property has been affected or the disaster has impeded the owner's ability to make payments.