H-P Rallies on CEO Whitman's Bullish View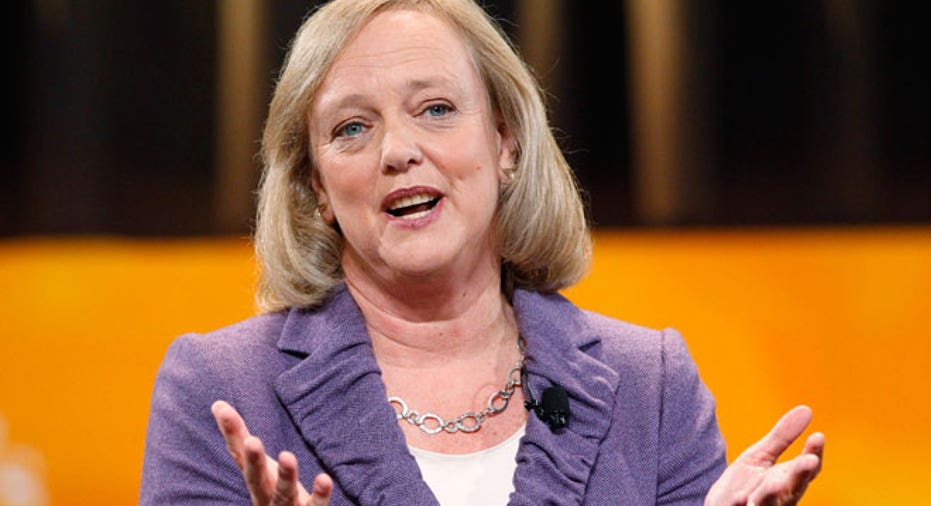 Hewlett-Packard (NYSE:HPQ) shares rallied 5.5% in the wake of upbeat guidance and some bullish remarks from Chief Executive Meg Whitman, who said she's satisfied with the PC maker's turnaround this year.
Speaking to analysts in California on Wednesday, Whitman called the upcoming 2014 fiscal year a "pivotal" one for H-P.
The company's revenue will likely stabilize next year, she said, while it may see some growth at certain points. Whitman expects "acceleration" to occur in fiscal 2015.
"With pockets of growth helping to offset continuing challenges in the macro environment and weak public sector spending, HP expects the year-over-year revenue decline in fiscal 2014 will moderate from fiscal 2013," the company said in a statement.
H-P provided guidance for per-share earnings of $2.85 to $3.05, and adjusted per-share earnings of $3.55 to $3.75 in fiscal 2014. It also expects to generate between $9 billion and $9.5 billion in free cash flow.
The former eBay (NASDAQ:EBAY) CEO, who is closing in on two full years at the helm of H-P, doesn't expect further restructuring after the next fiscal year. Last year, H-P said it would slash 29,000 jobs by the end of 2014.
Shares jumped to $21.90 in afternoon trading. The stock was already up 45.6% as of Tuesday's close.
Whitman took over for Leo Apotheker, who led the Palo Alto, Calif., company for less than a year. His predecessor, Mark Hurd, resigned in August 2010 following a board investigation into a relationship with a contractor.
After stepping in as CEO, Whitman scrapped a plan devised by Apotheker to spin off H-P's PC business.
H-P has struggled to combat declining PC demand, while the popularity of tablets and smartphones surged. Whitman has sought to bring stability to the company by focusing its efforts on software and services, in addition to paying off debt.
"We are managing a portfolio of businesses that, when managed properly, will position H-P well into the future," she said, according to Dow Jones Newswires. "When we do things well, boy there is no one better in the industry."