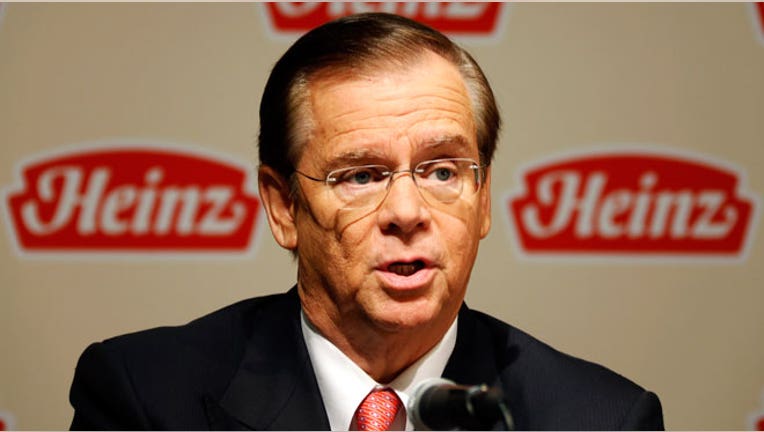 In one of the most lucrative golden parachute packages on record, H.J. Heinz (NYSE:HNZ) CEO William Johnson could emerge from his company's $28 billion buyout more than $200 million richer, according to new regulatory filings.
The golden parachute details show how Heinz execs will be compensated in the event their employment is terminated in connection with the transaction. The payouts are subject to a non-binding shareholder vote.
According to Securities and Exchange Commission filings late Monday, Johnson is set to receive $56 million in bonuses and other awards after completion of the deal, which will hand control of iconic Heinz to Warren Buffett's Berkshire Hathaway and 3G Capital.
Johnson, 64, would also receive $57 million in pension and deferred compensation as well as $99.7 million of shares in the company that he owns or controls, giving him a total of about $212.7 million.
It's not clear if Johnson plans to stay onboard after the takeover is finalized and a Heinz spokesperson said "there has been no decision made on any senior management, including Mr. Johnson."
The payout for Johnson would be just the seventh time a U.S. CEO left the C-Suite with a golden parachute of more than $200 million, according to The Wall Street Journal, which cited a report by Governance Metrics International.
"The payments reflect Mr. Johnson's success in creating billions of dollars in shareholder value over his successful 15-year tenure as President and CEO," a Heinz spokesperson said, pointing to total shareholder returns of 177% since 2006.
Heinz also noted that the compensation consists of equity Johnson accumulated during his three decades at the Pittsburgh-based company as well as existing equity awards and contractual rights in place before the deal was announced.
Buffett unveiled his $72.50-a-share buyout of Heinz on February 14, giving shareholders a 20% premium to the closing price the prior day.
Arthur Winkleblack, Heinz's chief financial officer, and David Moran, CEO of Heinz Europe, are set to receive total compensation of about $15.5 million each if they leave after the deal is completed.