Gupta's Fate Now in Hands of Jury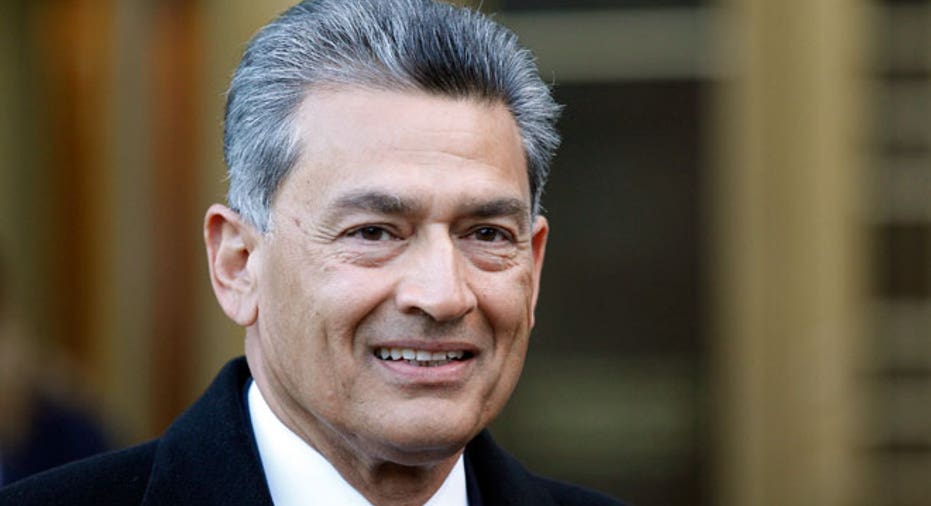 The fate of one-time corporate superstar Rajat Gupta is now in the hands of a New York jury. The Indian-born businessman is accused of leaking company secrets to hedge fund manager Raj Rajaratnam between March 2007 and January 2009 while he was a director at Goldman Sachs (NYSE:GS) and Procter & Gamble (NYSE:PG).
Gupta is charged with one count of conspiracy and five counts of securities fraud. If convicted, he faces five years in prison on the conspiracy charge and 20 years in prison on each of the securities charges.
Gupta denies any wrongdoing. His lawyers argued that Rajaratnam had multiple inside sources and that the evidence against Gupta is speculative at best.
Gupta's case has been a tough test of the government's ability to prosecute a high-profile defendant in a white-collar criminal trial. The wiretaps presented by the prosecution were not as incriminating as they had been in other Rajaratnam-related cases. The government relied on wiretaps in its 2011 prosecution of Rajaratnam and more than two dozen others in a wide-ranging probe of the hedge fund industry. U.S. Attorney Preet Bharara has billed it as the most extensive use of wiretaps ever in an insider trading investigation. While the government has been able to show Gupta and Rajaratnam spoke to each other, prosecutors were unable to provide any direct evidence as to what they discussed and why.
During closing arguments Wednesday, Assistant U.S. Attorney Richard Tarlowe told jurors that the evidence against Gupta was "overwhelming" and that Gupta "abused his position as a corporate insider." He said Gupta repeatedly called Rajaratnam after learning secrets as a Goldman and P&G board member and that those tips helped Rajaratnam make millions.
Defense Attorney Gary Naftalis told the jury there was "zero" evidence that Gupta profited from any kickbacks off trades by others.
The defense wrapped up its case June 12 after calling 11 witnesses, including Gupta's eldest daughter Geetanjali Gupta, to testify on his behalf. Gupta's wife and his four daughters have been a regular presence in the courtroom throughout the trial. Other witnesses include people associated with Gupta's various philanthropic causes. Gupta did not take the stand in his own defense.
During the four-week trial federal prosecutors used FBI wiretaps, phone records, and testimony from high-ranking corporate executives like Goldman Sachs CEO Lloyd Blankfein and Procter & Gamble CFO Jon Moeller to make their case.
Blankfein and Buffett
The government says Gupta, a 63-year old Conn. resident, leaked details of a Sept. 23, 2008 deal that gave Goldman a $5-billion cash infusion from Warren Buffet's Berkshire Hathaway Inc. at the height of the financial crisis. A month later, Gupta told the Galleon fund co-founder that Goldman was going to report its first-ever quarterly loss as a publicly traded company. While he was on the P&G board, prosecutors say Gupta spilled secrets about a $3 billion Folgers sale to J.M. Smucker & Co. before it was publicly announced on June 4, 2008.
Gupta is the highest-ranking executive to be targeted by federal investigators in their campaign to root out abuses of  corporate information.  Last year Rajaratnam was convicted on 14 criminal counts and sentenced to 11 years in prison.
In Gupta's case, the government has tried to show that his friendship with Rajaratnam lead to leaking company secrets.
The trial began May 21. During the first week the jury heard a 23-minute phone call between Gupta and Rajaratnam recorded on July 29, 2008. It had no direct connection to the charges against Gupta but was played by prosecutors to establish the relationship he had with Rajaratnam.
During the conversation, Gupta asks Rajaratnam about career and business advice. Rajaratnam, in turn, asks Gupta about a rumor that "Goldman might look to buy a commercial bank." Gupta said it was "a big discussion at the board meeting," but did not elaborate. Goldman never acquired a bank related to Rajaratnam's line of questioning.
Prosecutors rounded out the first week by calling former Goldman banker Byron Trott to the stand. Trott, the architect of the $5 billion investment by Berkshire Hathaway, told jurors about the secrecy surrounding the Sept. 23, 2008 deal that took place soon after the collapse of Lehman Brothers Holdings Inc.
"It was a major, major event to Goldman Sachs and to the markets," Trott testified.
Prosecutors allege Gupta called Rajaratnam two minutes before the end of the trading day on Sept. 23, 2008 to tell him about the investment. Rajaratnam then told his traders to buy Goldman stocks and made nearly $840,000 in profits. The investment was not made public until two hours after trading ended on Sept. 23, 2008.
Bored Jury
Week two got off to a sluggish start for the prosecution with witnesses reviewing stacks of documents, emails, news articles, and the minutes of board meetings. Jurors were seen yawning and staring around the courtroom.
The tension turned thick June 1 when Gupta's protégé at McKinsey took the stand against him.
Anil Kumar described the history of business dealings he facilitated between Gupta and Rajaratnam. Kumar's testimony was key for the prosecution because he was able to discuss the nature of their relationship. Kumar had gone to business school with Rajaratnam three decades earlier. He introduced Gupta to Rajaratnam in 2006.
Kumar was caught on tape by federal investigators giving inside information to Rajaratnam. He pleaded guilty in 2010 to one count of securities fraud and one count of conspiracy. He will be sentenced later this year. Kumar also testified at Rajaratnam's criminal trial last year as a cooperating witness for the government. During that trial he admitted to accepting $1.75 million and tipping the Sri Lankan billionaire on deals involving McKinsey clients including chipmaker Advanced Micro Devices (NYSE:AMD).
The government's final witness during week three was also its most touted. Members of the media and public squeezed into the packed courtroom to hear Goldman's chief executive testify. Blankfein, who spent three days on the stand, told jurors Gupta had been present in key meetings where confidential information such as earnings, investments and acquisitions were discussed. He also said Gupta was not authorized to share that information with anyone. His comments mirrored the testimony he gave during Rajaratnam's trial last year.
During a lengthy cross-examination, Blankfein said Gupta was a valued and trusted board member. Gupta submitted his resignation as a Goldman director during the height of the financial crisis in September 2008 so he could join the board of a private equity firm. Blankfein told the court he asked Gupta to withdraw his resignation and said Gupta's departure might have sent a negative signal to investors.
A conviction against Gupta would send a strong message on a global scale. Since August 2009, federal prosecutors in Manhattan have charged 68 individuals with insider trading, resulting in 61 convictions or guilty pleas. So far, about half have been sentenced.
Gupta's Defenders
Gupta, who was born in Kolkata, came to the U.S. as a graduate student at Harvard Business School in 1971. He became an American citizen in 1984. Many of India's most notable businessmen and women have come to his defense. On the website Friends of Rajat, they paint a very different picture of the man prosecutors describe as a diabolical mastermind.
The site includes signatures and testimonies from people like Deepak Chopra and Rana Talwar, who first met Gupta in the mid-90s when he was at McKinsey and Talwar was the global CEO of Standard Chartered.
Billionaire Mukesh Ambani, who has known Gupta for more than 20 years writes, "In every conversation I have had with him over the years, he was always talking about the things he wanted to do for India, for others, and never about himself."