Guide to Cancer Insurance: 5 Must-Know Facts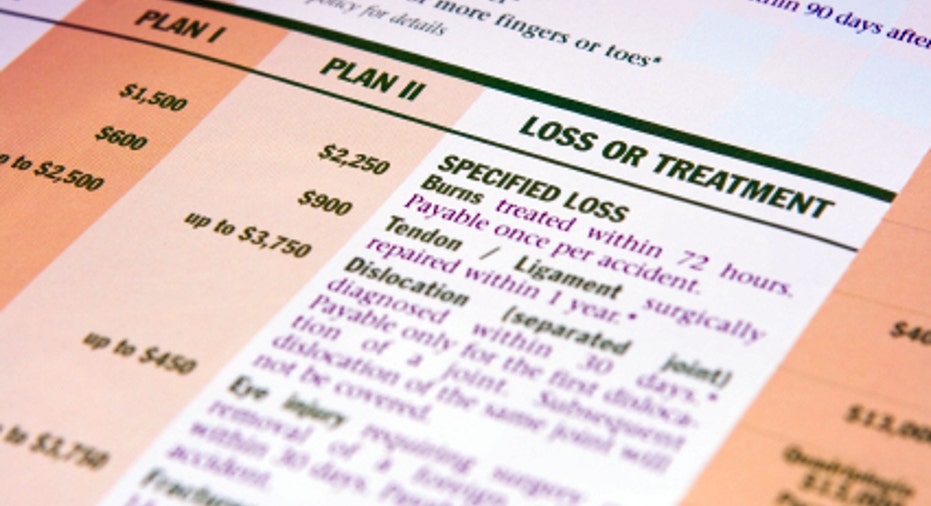 Men have an almost one in two chance of developing cancer in their lifetimes, and women have more than a one in three chance, according to the most recent statistics from the U.S. National Cancer Institute.
Scary odds like those help insurance companies make the case for cancer insurance.
But fear shouldn't be the only guide in any financial decision. Make sure you have other important coverage in place, and read the fine print of a policy before buying. Here are 5 things you should know.
1. Cancer insurance is not a substitute for health insurance
"It's important to have a major medical plan as a fundamental basis first," says Chris Haire, product performance director for Mutual of Omaha, a major cancer insurance provider.
Cancer insurance pays benefits only if you're diagnosed with cancer -- not for other illnesses -- and it doesn't cover all your treatment costs. It's designed to supplement, not replace health insurance. It's also not a substitute for Medicare supplementary coverage, known as Medigap. (See: "5 things you don't know about group health insurance.")
2. Evaluate your health insurance and coverage needs
Why buy cancer coverage if you already have health insurance?
"Even with the most robust medical insurance policies, you have pretty heavy cost sharing," Haire says.
Money from cancer insurance can help pay for out-of-pocket medical expenses, such as deductibles and coinsurance, or for treatments not covered by your health plan. Or you can use the cash to pay for ordinary household expenses to ease the financial burden of a serious illness.
Premiums vary according to the benefits provided and, with some companies, according to your age and gender. The policies are relatively inexpensive -- under $10 a month in some cases.
Keep in mind the coverage kicks in only if you have cancer. Cancer treatment accounts for 10% of U.S. medical expenses, according to the National Association of Insurance Commissioners (NAIC). (See: "10 health insurance freebies: cancer screening.")
"Cancer is very scary, but what if you get Parkinson's Disease? What if you have a heart attack?" says Nancy Metcalf, senior program editor for Consumer Reports. "There are a lot of other things you could be blindsided by."
Metcalf recommends making sure you have good health insurance coverage and setting aside money in a savings account for out-of-pocket expenses and emergencies rather than buying cancer or other disease supplemental coverage.
3. Understand how the cancer insurance policy pays
Cancer insurance has been sold in the United States for decades, and the policy designs "are all over the board," says Jesse Slome, executive director of the American Association of Critical Illness Insurance.
Some plans, called expense-incurred policies, pay a percentage of treatment expenses up to a maximum dollar limit. Others, called indemnity policies, pay a certain fixed amount for each benefit listed in the policy. The money can be paid directly to you, and you can use it how you wish.
Newer types of cancer insurance policies pay a single, lump-sum cash benefit upon diagnosis.
Critical illness insurance, which became available in the United States in the mid-1990s, also pays a lump sum after diagnosis but it covers more than one type of disease, such as cancer, heart attack and stroke. You collect the benefit if you're diagnosed with any of the covered illnesses.
Slome sees traditional cancer insurance as "old world" and says the industry is moving more toward the critical illness insurance model.
4. Read the fine print of your insurance policy
Find out how the insurance company defines cancer -- some policies exclude coverage for skin cancer, for instance -- and read the policy carefully to understand the benefits, exclusions and limitations.
Typically a cancer insurance policy has a waiting period between the time you purchase coverage and when benefits can be paid. If you're diagnosed during that period, the policy doesn't pay. Coverage might also be denied if you're diagnosed after the waiting period but you had cancer symptoms before you purchased the policy.
5. Avoid duplicate coverage
If you want cancer insurance, look for a policy that would take care of needs that your current insurance would not cover. It's also wise to make sure you can get benefits from both the cancer insurance and your health insurance policies, the NAIC advises. Although cancer policies advertise they will pay regardless of what other insurance policies pay, your health insurance might include a "coordination of benefits clause," which means it won't pay for duplicate benefits. Check with your health insurance provider as well as evaluate the cancer policy, the NAIC says.
Finally, as with any insurance purchase, evaluate the insurance company selling the product. Review financial ratings of the company by rating agencies, such as A.M. Best and Standard & Poor's. Log on to your state insurance department's website to check the company's complaint ratio and confirm that it's licensed to do business in your state.
The original article can be found at Insurance.com:Guide to cancer insurance: 5 must-know facts