GrubHub Revenue Jumps as More Customers Order Food Online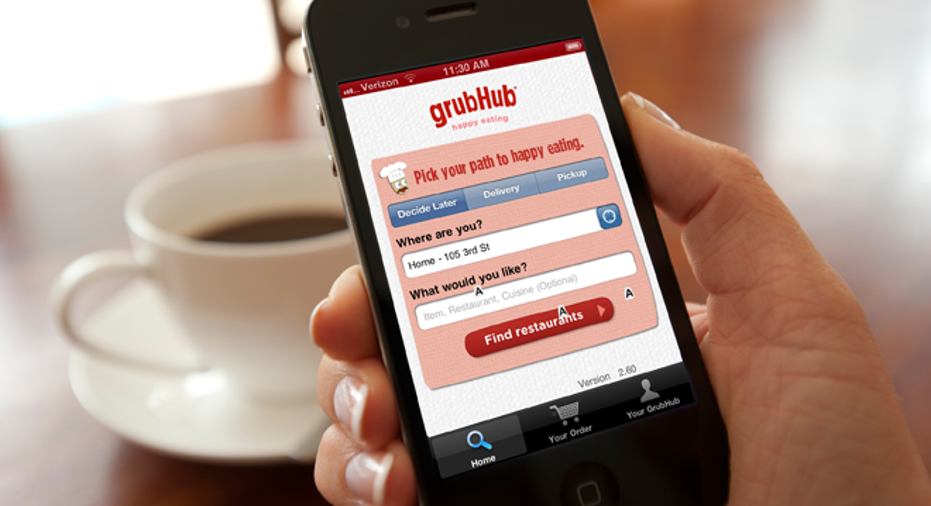 GrubHub Inc (NYSE:GRUB) reported a more than five-fold jump in quarterly profit as more people used the online food-order-and-delivery company to order takeout meals.
The company's shares rose as much as 6 percent to $39.50 on Thursday.
GrubHub, which delivers everything from expensive steaks to bento boxes, receives a commission from restaurants on orders booked through its website and mobile application.
Online food delivery companies have benefited as more people use smartphones and other devices to order over the Internet.
GrubHub said the number of active diners using its services grew 50 percent to 4.6 million from a year earlier.
The company's strong results and user additions underscore a massive growth opportunity, as 95 percent of food orders in the United States are still placed over the telephone with paper menus, co-founder and Chief Executive Matt Maloney said.
GrubHub forecast current-quarter revenue of $68.5 million to $70.5 million, beating the analysts' average estimate of $66.7 million, according to Thomson Reuters I/B/E/S.
Analysts noted that the company was reaping the benefits of a change in advertising strategy.
GrubHub has expanded its focus from mostly digital advertising to national TV advertising, which is helping it gain exposure in smaller cities and suburbs, Barrington Research analyst Jeff Houston told Reuters.
The company will spend more on advertising efficiently in the seasonally strong fourth quarter, Maloney said in a statement earlier.
The September quarter is traditionally soft as diners use the service less during the summer. Orders increase as students go back to school and the weather turns colder.
Yet despite the seasonal softness, GrubHub's revenue rose 51 percent to $61.9 million from a year earlier, driven mainly by a change in pricing strategy at Seamless.
Chicago-based GrubHub merged with Seamless last August to boost its presence on the U.S. East Coast. Seamless, popular with large businesses, was started in 1999 by two lawyers to cater to employees working long hours. The combined company now operates in more than 700 U.S. cities, helping customers order from about 30,000 restaurants.
Seamless abandoned its practice of listing restaurants on its website alphabetically in favor of GrubHub's strategy of giving priority to restaurants that pay more for the service.
"Seamless adopted that new pricing last quarter and so it drove a lot of the upside in revenue," Houston said.
GrubHub's net income rose to $6.5 million, or 8 cents per share, in the third quarter ended Sept. 30, from $1.2 million, or 1 cent per share, a year earlier.
Analysts on average were expecting an adjusted profit of 6 cents per share on revenue of $57.4 million, according to Thomson Reuters I/B/E/S.
GrubHub shares were trading up 1.6 percent at $37.77. Up to Wednesday's close, the stock had risen nearly 43 percent since the company went public in April. (Reporting by Abhirup Roy and Anya George Tharakan in Bangalore; Editing by Simon Jennings)