Greek Life: What You Need to Know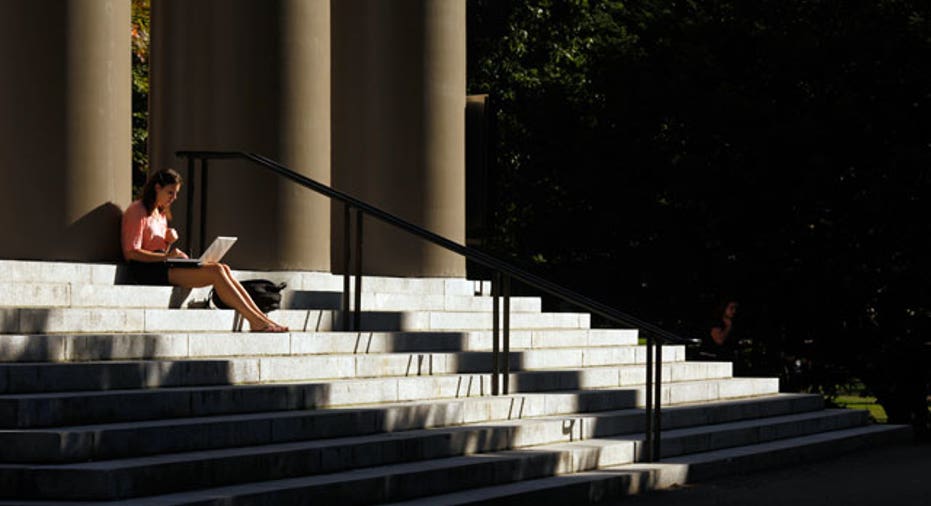 A popular way for college students to get involved on campus and meet new people is to join a fraternity or sorority. While the notion of joining a Greek organization might conjure up images of toga parties, keggers and co-eds behaving badly, they are also other elements like public service and school spirit.
"I think that when a lot of students are first introduced to [Greek life], every sorority and fraternity is known for being one thing or another—having the cool kids or the not so cool kids or the athletes or whatever that might be," says Lauren Berger, CEO of Intern Queen. "I think it's really important to look at the people around you and say, 'are these going to be the people I surround myself with that will really encourage me to thrive in my future?'"
According to the Panhellenic Association at the University of California, San Diego, there are 750,000 undergraduate members in 12,000 chapters on more than 800 campuses in the U.S. and Canada.
While joining a fraternity or sorority can be a great experience, it's important to know all of the details before pledging and wasting money. Here's what Greek life experts, including members themselves, suggest that students consider before pledging.
Cost
The experts unanimously agree that joining a fraternity or sorority can be costly. With formals and mixers, t-shirts and memorabilia with your Greek letters and semester dues, members can run up a hefty bill.
Hannah Faust, an Intern Queen Campus ambassador who was a member of the Pi Beta Phi fraternity for women at Ohio University, recommends getting a full break down of any fees, dues and financial obligations during the pledge process.
"My chapter gave us a full breakdown of our four years of dues and never strayed," she says. "They sent the breakdown to my parents, too, which was great because they were fully aware of what they were in for."
Every sorority and fraternity has different financial stipulations—some may charge costs for the entire year, while others start out with a basic fee and collect additional money for events like mixers and parties. Another thing to keep in mind is that some charge members fees for missing mandatory meetings or events.
"My sorority pays yearly, so we pay around $300 and that doesn't include mixers or formals," says Amanda Lanza, co-president of the Greek Council Officers at St. Joseph's University. "[Some] sororities pay a lot more, like $800 to $900 for the whole year, and a lot of people do it per semester depending on what events they have so it's all covered."
For those who aren't able to pay the entire fee upfront or at all, some fraternities and sororities have financing options.
"All 26 National Panhellenic Conference (NPC) sororities offer scholarships in some form," says Nicki Meneley, executive director of the NPC.  "In 2010, Alumnae Panhellenics raised $299,052 for scholarships awarded to 323 sorority women."
Time commitment 
Like any extracurricular activity, being a member in a Greek organization requires a time commitment, says Brad Beacham, executive director at Sigma Nu Fraternity Inc. How much time a student dedicates to a fraternity or sorority depends on the organization and level of involvement.
"As with anything else in life, you're likely to get out of the experience about as much, if not more, than what you put into it," says Beacham. "There are opportunities for individuals to be involved on a very high level, perhaps in a leadership role or some other actively engaged role."
While both fraternities and sororities tend to hold weekly chapter meetings, there are also a slew of other events both on and off campus that members are required to attend, as well as required volunteer hours. Keep in mind that along with classes, studying and other activities, students may not have as much free time as you would like.
"It can be very time consuming—if you're on the event board, which I am, you have to be there earlier and stay later," says Lanza. "I think it can be very stressful sometimes, so if you can't manage your time well, it would definitely be hard to balance being in Greek life."
Greek organizations have opportunities for students to break out in leadership and philanthropic roles that can later be quantified as valuable experience for a job.
Being a part of a national group is also a way for students to network with alumni during school and after they graduate.
"There are alumnae chapters all across the country who gather regularly to do service projects, fundraisers for scholarships or socialize," says Meneley. "This is a great way to stay connected to the organization, your local community and network."
Going Greek can also instill a sense of brotherhood or sisterhood with your fellow pledges, something you that stays with you long after college is over.
"There is a great feeling in being a part of something bigger than yourself," says Faust. "I have been stopped at the airport and the grocery store wearing my Pi Phi gear by fellow Greek life members and it is just such a cool feeling knowing that you have sisters across the country."
At the end of the day, students should join a fraternity or a sorority if they think it would be a good fit, not because it's the only way to meet people. Every campus has many different opportunities to become part of campus life and learn more about themselves in the process.
"There are plenty of other options out there," says Berger. "Make sure you do get involved and that you're constantly asking yourself, 'how can I make the most of the situation that I'm in?'"