Google, Yahoo, Twitter Have Had Talks to Buy Flipboard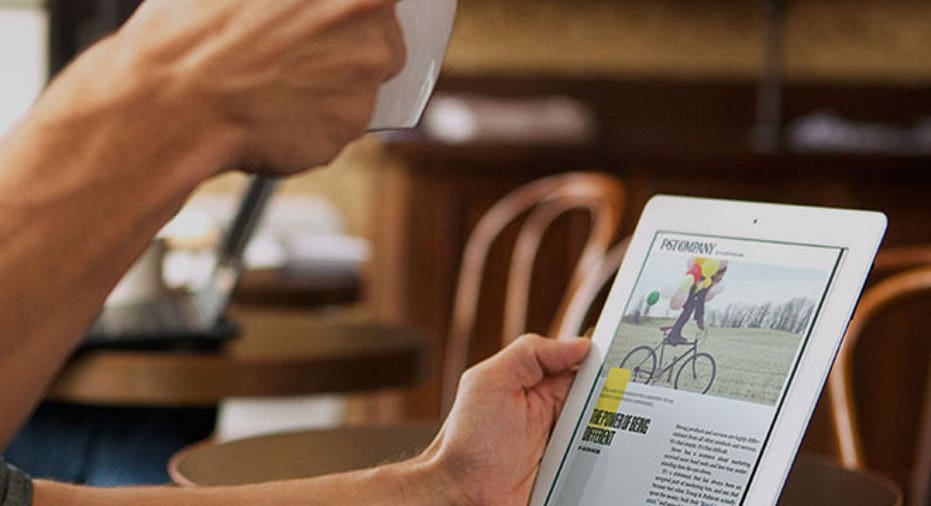 Several Internet giants have inquired about buying Flipboard Inc., maker of a newsreader app that has recently signaled it is open to acquisition discussions, according to people familiar with the matter.
In recent weeks, Google Inc. and Yahoo Inc. have both reached out and held early discussions with Flipboard, three of the people said. Those talks have involved ideas around how products could be integrated, but they haven't evolved to a price, the people said.
Talks with Twitter Inc. went further, discussing a deal price of about $1 billion, these people said. But those negotiations, which began months ago, have largely stalled since April. Technology news site Recode earlier reported news of the Twitter talks.
Flipboard aggregates stories from various publishers as well as users' social networking circles, enabling users to curate their own news-reading experience into a digital magazine. The startup, founded in late 2010, said it had 65 million monthly active users in May, up from 50 million in February.
The talks with Flipboard highlight the push by these Internet companies to make it easier for users on-the-go to consume content. Rivals such as Facebook Inc. and Snapchat have recently forged partnerships with publishers to show more content within their apps.
That trend may be a driving force behind Twitter's interest in buying Flipboard earlier this year. The discussions were championed by Twitter financial chief Anthony Noto, the former Goldman Sachs Group Inc. banker who led that firm's investment in Flipboard when the startup raised $50 million in 2013. At the time, Goldman and other venture-capital investors valued Flipboard at $800 million.
Mr. Noto has been particularly eager to bring Flipboard into the Twitter fold. He urged some people at Twitter as far back as early 2014--before he joined the social media company--that Twitter should buy Flipboard because the app's interface could provide a better experience for people who use Twitter to primarily consume news, according to a person familiar with his thinking.
Twitter's real-time nature has made the service a force in breaking and spreading news, but the deluge of streaming tweets has also made it difficult for users to parse the headlines. In recent years Twitter has sought to make its mobile app more visually appealing while working with media organizations to share its content on the site. But its efforts to cater to news organizations haven't kept pace with overtures by rivals.
Facebook, for example, earlier this month launched an initiative dubbed Instant Articles, in which nine media organizations can publish content directly onto its iPhone App. Facebook has said this allows users to access articles about 10 times faster than they can now, and the publishers can place ads and receive 100% of the revenue.
Flipboard and Twitter have been partners in several respects. Most recently, Twitter in February said it would begin selling advertising on the Flipboard app, giving advertisers the chance to reach a broader audience away from Twitter.
Acquisition talks between the two parties started early this year but have cooled since Twitter's disappointing first-quarter earnings report in April, according to one person involved in the talks. Another person familiar with the matter said the talks have reached a standstill.
Google and Yahoo have both tried to compete with Flipboard by launching their own newsreader apps, and both failed to gain traction. Yahoo's Livestand app, which it closed in 2012, preceded the company's chief executive, Marissa Mayer, who showed an interest in acquiring large social-networking services when her company paid $1.1 billion to acquire Tumblr in 2013. Flipboard might fit into Ms. Mayer's strategy to spiff up its news and content sites with new designs called "digital magazines, " including Yahoo Tech and Yahoo Style.
Part of Flipboard's appeal also stems from the experience of its team. Mike McCue, the company's chief executive, previously built voice recognition startup TellMe Networks and sold it to Microsoft Corp.; his co-founder Evan Doll was formerly a senior software engineer at Apple.
Mr. McCue has close ties to Twitter, having served on the company's board until 2012. He stepped down from the role as tensions rose between Twitter and the third-party app developers with whom it increasingly competed.
Flipboard has raised $160 million from investors including Goldman Sachs, Rizvi Traverse Management, Insight Venture Partners and Kleiner Perkins Caufield & Byers.
(By Yoree Koh and Douglas MacMillan)