Google Flies Away With Drone Maker Titan Aerospace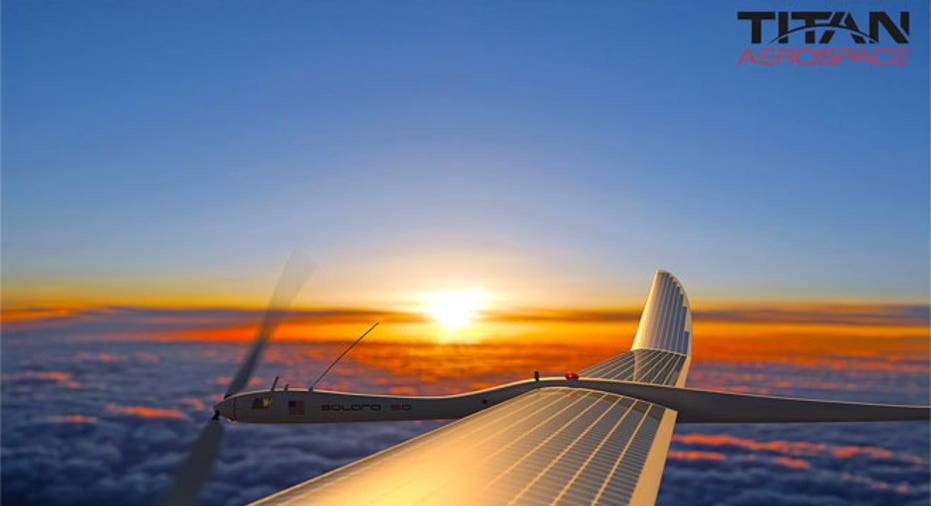 Google (NASDAQ:GOOG) has reached an agreement to acquire Titan Aerospace, the maker of high-altitude drones that could help expand Internet access in the developing world.
The Moriarty, N.M.-based company makes near-orbital, solar-powered drones that can fly for five years consecutively without landing.
"It's still early days, but atmospheric satellites could help bring Internet access to millions of people, and help solve other problems, including disaster relief and environmental damage like deforestation," a Google spokesperson said in a statement.
Google declined to say how much it paid for Titan Aerospace, which expects initial commercial operations in 2015.
Titan did not respond to a request for comment on the news.
Earlier this year, Facebook (NASDAQ:FB) was reportedly in talks to acquire Titan for $60 million, but the social networking giant later agreed to acquire U.K.-based Ascenta for $20 million.
Titan CEO Vern Raburn and his team of 20 employees will work closely with Google's Project Loon, which is making high-altitude balloons to expand Internet access in developing areas.
In addition to sending Internet signals, Titan's drones can collect real-time images of the earth, provide voice and data services and carry atmospheric sensors.
Titan's drones have a cruising speed of more than 60 miles per hour and can ascend to more than 12 miles above sea level while carrying a payload of about 70 pounds.
"Titan Aerospace and Google share a profound optimism about the potential for technology to improve the world," the Google spokesperson said.
Founded in 2012, Titan's website says the company's goal is to "create products that not only deliver groundbreaking functional benefit but also deeply inspire us on an emotional level."
Shares of Mountain View, Calif.-based Google advanced 0.89% to $535.34 Monday afternoon.