Google Buys Zagat to Boost Local Service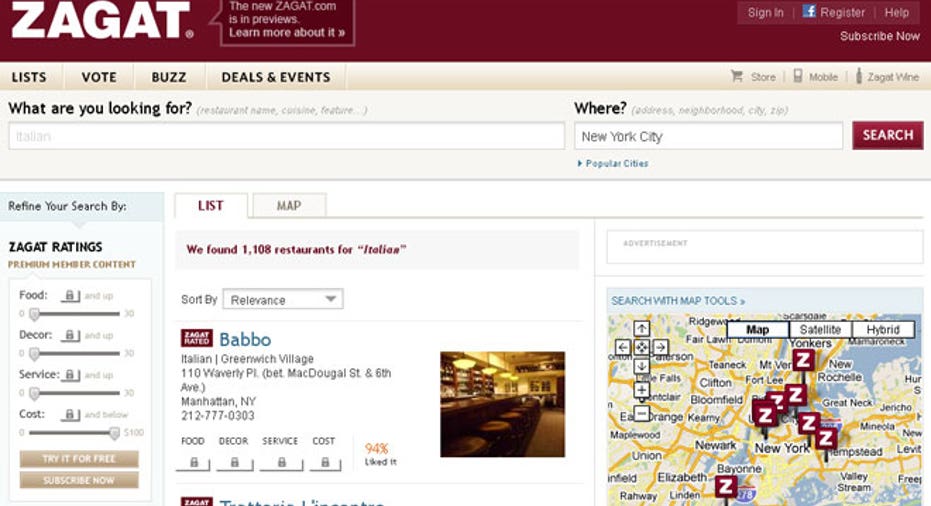 Google (NASDAQ:GOOG) has bought popular restaurant guide Zagat for an undisclosed amount in an effort to build its local services and delve further into a niche marketplace already dominated by Yelp and Yahoo (NASDAQ:YHOO).
The renowned travel and food rating service will be a cornerstone in Googles local offering, working hand-in-hand with Google Maps and its search engine, according to Marissa Mayer, vice president of Googles local, maps and location services.
Im incredibly excited to collaborate with Zagat to bring the power of Google search and Google Maps to their products and users, and to bring their innovation, trusted reputation and wealth of experience to our users, Mayer said Thursday on the official Google blog.
In its more than 32-year life, Zagat has gained the reputation of being a go-to for surveys, reviews and recommendations for restaurants all around the world. The company operates in 13 categories in more than 100 cities and provides information to customers through various platforms, from the web to pocket-sized maps.
Zagat founders Nina and Tim Zagat said in a note to customers on Thursday that the deal may be the most important announcement in the companys history.
We couldnt be happier to see our baby placed into such good hands and are looking forward to being Googlers in the years ahead, they said.
The Zagats, who will continue to be active in the business as co-chairs, said the takeover by Google provides the company greater opportunities to expand.
Terms of the deal were not disclosed.