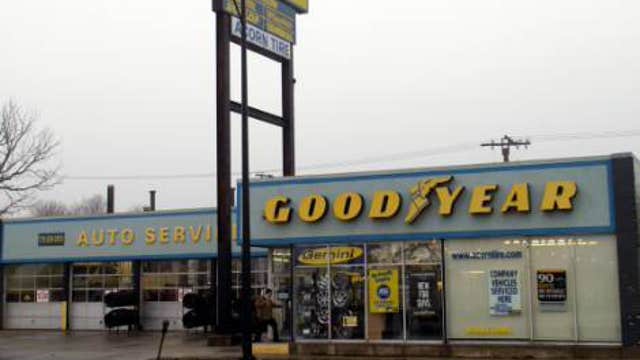 Goodyear Tire & Rubber's (NASDAQ:GT) third-quarter profit climbed 48%, and the company raised its full-year view in anticipation of continued progress in North America.
The Akron, Ohio, tire maker now expects record operating income of more than $1.5 billion in 2013, at the high end of its previous guidance. It's also eyeing annual growth of 10% to 15% through 2016.
But shares skid 7.7% to $20.25 in late morning trading Tuesday after third-quarter revenue missed Wall Street estimates.
Goodyear reported net income of $173 million, up from $117 million in the year-ago period. Per-share earnings checked in at 62 cents versus 41 cents.
Exclude one-time charges, adjusted earnings checked in at 68 cents to beat expectations by a penny.
Revenue declined 5% to $5 billion, while analysts were looking for roughly flat results year-over-year. The company, which also sells tire retreading materials, posted weaker revenue from tire-related chemicals.
Over the course of several years, the company cut costs by closing plants and making union changes in an effort to boost profitability in North America. In addition, Goodyear turned its attention to bolstering sales of higher-end tires.
North America's operating income jumped 24% to $161 million in the third quarter, as tire sales increased to 15.8 million units from 15.6 million in the same period last year.
"While we continue to be disciplined in our approach, we are seeing growth in unit volumes, including in our North America business, driven by the Goodyear brand," Goodyear CEO Richard Kramer said in a statement.
Goodyear's European, Middle East and Africa unit saw its operating profit improve 10% to $115 million. The number of tires sold rose to 16.7 million from 16.3 million.
Operating profit in Latin America soared 82% to $89 million, even as tire sales fell to 4.5 million units from 4.7 million. Asia Pacific was up 3% at $66 million.