Golfer Dustin Johnson Invests In BodyArmor Sports Drink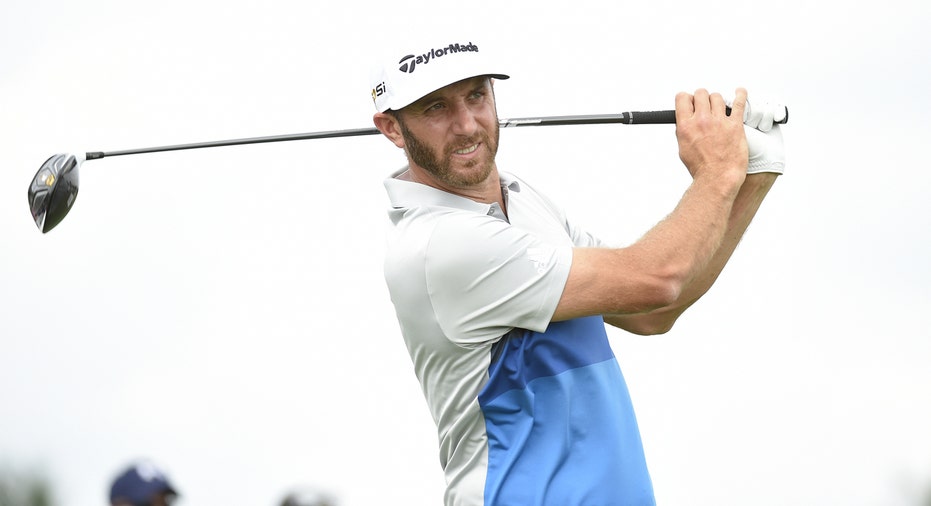 Golfer Dustin Johnson is the latest professional athlete to invest in BodyArmor, the upstart New York-based beverage company intent on challenging Gatorade's dominance of the U.S. sports drink market, FOXBusiness.com learned Wednesday.
Under the partnership's terms, Johnson, 31, will have the BodyArmor drink and branded towels in his golf bag during events. He will play a featured role in BodyArmor's digital and social media marketing campaigns, appear in both in-store and external company advertisements and attend certain BodyArmor events. Company representatives did not disclose the size or value of Johnson's equity stake. Johnson also received an undisclosed sum of cash as part of the deal.
BodyArmor markets itself as a healthier alternative to other popular sports drink brands, with natural flavors and no artificial colors. The beverage's formula includes coconut water and touts its high potassium and low sodium content. Johnson first made contact with the brand earlier this season, at the behest of his agent.
"My agent sent me their product, just to try out. From the first time I got it, I really liked the product, I liked the ingredients. I think it's far better than any other product out there, as far as sports drinks," Johnson said in an interview with FOXBusiness.com. "I'm a shareholder. It's a product that I believe in and that I think is going to do very well."
BodyArmor has a long way to go before it can be considered a legitimate threat to Pepsico-owned (NYSE:PEP) Gatorade, which controls anywhere from 70% to 80% of the U.S. sports drink market, according to various estimates. Gatorade's sales surpassed $3.5 billion in 2015, according to estimates from the Beverage Marketing Corporation. By comparison, BodyArmor projects it will reach about $125 million in sales for 2016.
But the company has made major strides in recent months toward becoming a legitimate industry competitor. BodyArmor launched its first marketing campaign earlier this year, featuring a variety of billboards and digital ads. The marketing push will continue through the summer.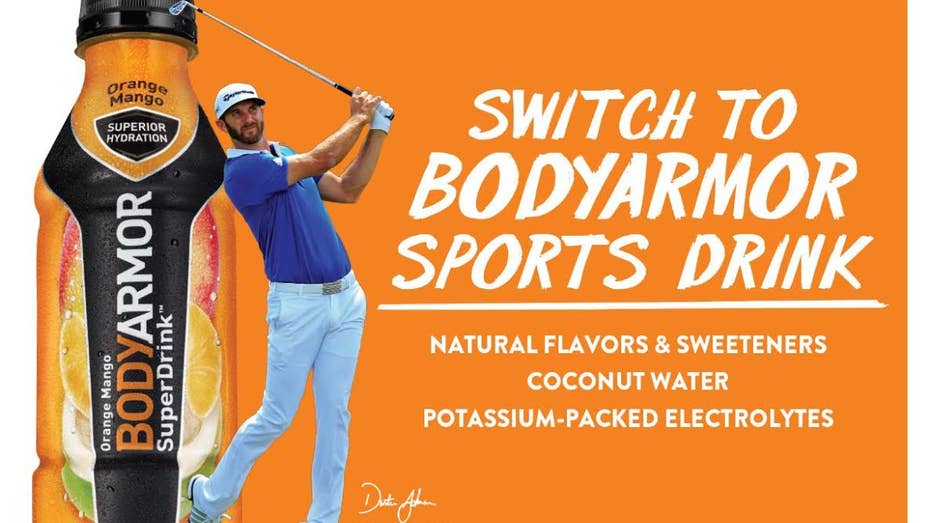 As of early 2016, BodyArmor secured national distribution through the Dr. Pepper Snapple Group (NYSE:DPS), which, with a 16% ownership stake, is the company's second-largest shareholder. Recently retired basketball legend Kobe Bryant, who bid farewell to Los Angeles Lakers fans at the Staples Center last week while draped in a BodyArmor towel, is the brand's third-largest shareholder.
Company founder Mike Repole, a Queens, New York native and entrepreneur, is still BodyArmor's top shareholder. Repole is best known for co-founding the Vitaminwater beverage brand, which he later sold to Coca-Cola.
"Dustin Johnson is a perfect fit for the BodyArmor brand," Repole said in a statement to FOXBusiness.com. "He is a fan of BodyArmor sports drink – but he's also one of the best athletes on the tour. Dustin is also very conscious of what he puts into his body when he's training and competing. He's been playing great this year and we're excited to begin our partnership and help take BodyArmor to the next level."
A total of 12 professional athletes have either invested in BodyArmor or partnered with the brand in some capacity. The company's roster of celebrity endorsers includes Los Angeles Angels outfielder Mike Trout, San Francisco Giants catcher Buster Posey, Indianapolis Colts quarterback Andrew Luck and U.S. women's soccer Olympic gold medalist Sydney Leroux.
"The guys that are in it, it's a great group of guys, a lot of great athletes," Johnson said. "It's great to be a part of that. I'm very happy to be a part of the team. I'm looking forward to things to come in the future."
The deal is another potential coup for Johnson, whose career has rebounded nicely since a self-imposed hiatus in 2014 to address personal issues. Johnson ranked 13th on Golf Digest's 2016 list of the sport's top earners with more than $6 million in prize money and another $6 million in off-course earnings.
Johnson, who adds BodyArmor to a portfolio that includes deals with New Era caps, Adidas and TaylorMade Golf, says he only partners with companies that produce products he genuinely wants to use.
"It has to be a company where I really like the product and something that I'm going to use," Johnson said. "I'm not just going to endure something that I don't like or that I'm not going to use. That just takes too much effort. When it's something that you like and something that you're going to use, it's really easy."
Johnson is part of a growing cadre of pro golfers experiencing a boom in business away from the course. His contemporaries, including Jordan Spieth, Jason Day, Rickie Fowler and Rory McIlroy, have parlayed sponsorship opportunities with major brands into millions of dollars in annual earnings.
Johnson credits PGA Tour veterans Phil Mickelson and Tiger Woods, who respectively earned $50 million and $48 million off the course in 2015, with changing the way marketers and golfers interact.
"Tiger and Phil raised the bar and that standard for all of us," Johnson said. "You're seeing golfers venture into all kinds and aspects of business."