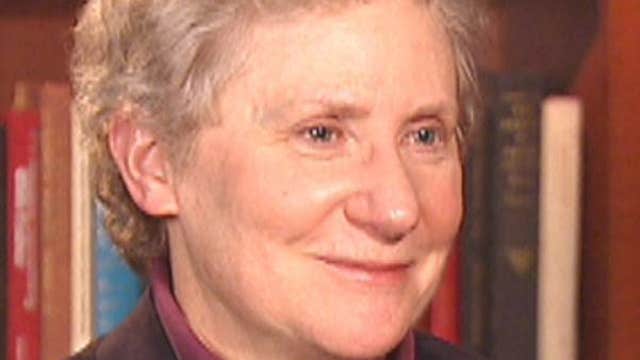 It's not always easy to hear through the beeping, yelling, and commotion on the trading floor.
But when Goldman Sachs' (NYSE:GS) Abby Joseph Cohen talks, traders listen.
With nearly four decades of hands-on market experience, the storied investment bank's senior investment strategist, a true legend on the Street, is not afraid to make the tough calls when it comes to the markets and their sometimes sudden and unpredictable moves.
Through the years, armed with Street smarts and plenty of tenacity, Cohen proved she's not just a token woman welcomed into the boys club of Wall Street. And she's certainly not afraid of a little hard work.
A Career on the Street,  a Voice on the Megaphone
Cohen is perhaps best known for correctly predicting the bull market of the 1990s – a run that helped push the Dow Jones Industrial Average above 7000 for the first time in history, and one many have called the greatest bull market of all time.
Known for her seemingly unwavering bullishness, traders hung on her every word.
In fact, one November day in 1996, the Dow gave up gains, falling 60 points on pure speculation and rumor that Cohen had altered her market outlook. Goldman responded by ushering Cohen out to quell the markets. She took to the intercom system that connects Goldman's offices to the world, and set the record straight: She was sticking to her bullish outlook and the rumors were false.
The Dow ended the day higher by 35 points.
It's a story of power strong enough to give just about anyone an inflated self-image. But not for Cohen.
"Obviously it's really flattering, but it's also very humbling," she said. "The thing is I always think of myself as an analyst looking at the data, calling it as I see it. And I'm very fortunate to have had what's proven to be a very good track record over a long period of time."
Just as she has earned credit for making the right call, she's also taken blame, along with much of Wall Street, for not warning investors of the depths of the 2008 financial crisis.
With such a high-profile career, there's bound to be mistakes. But Cohen said she doesn't let the threat of a misstep cloud her judgment or force her to second guess the data analysis she believes is correct.
For her, the answer is to simply keep the facts -- what's happening in the economy and the corporate sector -- in focus.
"Some of the very dramatic market moves are hard to predict not so much in terms of direction, but in terms of depth and duration," she said. "One of the things that happened to many, I think, in 2008, is not understanding just how significant this was going to be on a global scale. And therefore how much more difficult it was to contain."
To that point, despite the negative spotlight, Cohen hasn't altered the way she makes her predictions. Now, as fears of emerging market contagion pulse through equity markets, Cohen stands by her belief this is the correction investors have been looking for -- a pause button of sorts for the seemingly endless upward trend the markets saw in 2013. She and the investment bank she works for see gains through the year and predict the S&P 500 will round out 2014 about 3% higher than it started.
A Wall Street 'Geek'
Cohen says she's constantly motivated by a passion for the markets and all that drives them.
"My feeling has been based upon what my parents told me: Whatever you decide to do, it should be something you really care about," she said. "Ultimately, the financial markets are all about providing the grease, providing the liquidity for economic growth and to be able to comment on what's happening in the economy and also to work with our clients… about the way the economy could be enhanced or the way the financial markets could be used to provide more economic growth is really satisfying."
But a career on Wall Street wasn't always the career she had in mind.
A Queens, New York native, Cohen found herself at Cornell University in 1969 as a double major in economics and computer science. It was in the Ivy League where she earned the tough skin that would later prove useful on Wall Street.
Cohen enrolled in a graduate-level computer science course, but came face-to-face with the reality of the times when her professor discouraged her from finishing the class because she was not a graduate student, not yet enrolled in the engineering program, and not a man.
"It toughened me up," she said. "It made me understand that sometimes things are simply unfair. And the thing that disturbed me the most about that is the person in charge, the professor, the one who's supposed to be looking out and developing students is the one who was actually presenting the biggest roadblocks."
Cohen said that moment was an eye-opening experience that continued to motivate her long after she'd made the choice to join the ranks of the finance world's elite.
Words of Wisdom from one of Wall Street's Wisest
Cohen's run-in with her Cornell professor had more of an impact on her life than she likely imagined it would have. She turned what could have been a setback into motivation. In fact, it's taught her one of her biggest lessons – one she wishes she'd learned earlier: To speak up more loudly for herself and ask for more resources and support.
"(That conversation) encouraged me through my career to see if I could find people in a mentorship role or someone to be an advisor or someone to be, in an expression we all love to use, a sponsor of me. Somebody who was really supportive of me in terms of my skill set and not worrying so much about other things like gender," she said.
With a near 40-year career – one that started humbly as an economist for the Federal Reserve Board in Washington and has led her to a prominent megaphone on Wall Street – Cohen is well-equipped to offer advice to a younger generation.
The first of three prongs is based on her own experience: Love what you do.
"Something that's really happened since the '08 crisis, of course, is that the financial services industry has become a bit less popular on campus," she noted.
She advises those seeking a career in the industry to make sure it's something that's not just enjoyable, but work you're really passionate about.
Number two: Be committed.
For Cohen, balancing life and a sometimes extremely demanding career is a challenge. But the best way to handle it, she's found, is to not think of the balance in a serial way. That is, focusing on one thing like a career, before you can focus on another aspect of life like family. Instead, focus on parts of every aspect all at once.
"One of the mistakes, I quite frankly think many of the young people in the financial services industry make…is this intense desire to the job to the exclusion of all else. And I think to have the perspective of what's happening in the community more broadly is essential to growth as an individual," she said.
Finally, Cohen said showing respect will propel you further in your career than you ever might imagine.
"You want to be able to work in an environment with people who you feel you can learn from and people you feel will be watching out for you in terms of your own career development," she said.