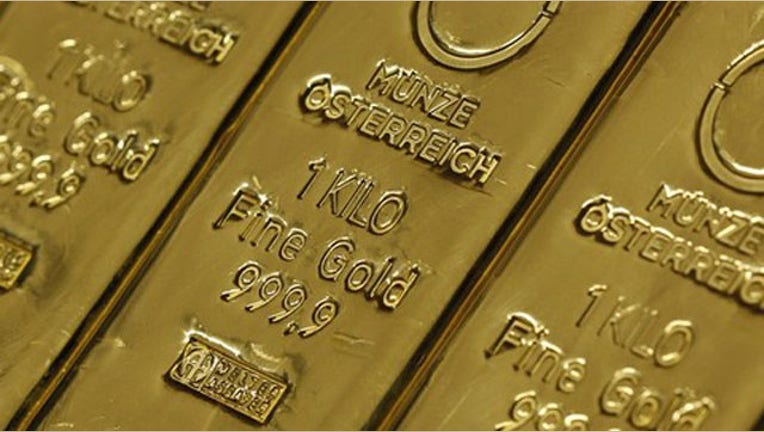 Gold edged up on Friday, but was near six-week lows under $1,300 an ounce and was on track for a second straight weekly decline as an improving U.S. economic outlook lifted the dollar and bolstered appetite for risk.
Bullion has dropped about $100 an ounce from a six-month high in the last nine trading sessions on declining geopolitical tensions, strong U.S. economic data and comments by Federal Reserve chairman Janet Yellen that interest rates could rise in the first half of 2015.
Low interest rates, which cut the opportunity cost of holding non-yielding bullion above other assets, had been an important factor driving bullion higher in recent years.
Spot gold was up 0.4 percent at $1,295.70 an ounce by 1109 GMT. It fell to $1,288.80, its lowest since Feb. 13, on Thursday and was headed for a 3 percent weekly fall.
Gold futures for April delivery rose 0.1 percent to $1,296.10 an ounce.
"Considering that geopolitical tensions have somewhat abated and risk sentiment has improved after good U.S. data, you will barely see any safe-haven buying at this point and there is nothing to hold gold up," VTB Capital analyst Andrey Kryuchenkov said.
"There is some support this morning as we are seeing some short-covering following yesterday's fall, but it is really narrow-trading," he added. "If we don't close below $1,290 today, we could see some consolidation around these levels ahead of the ECB on Thursday and the U.S. nonfarm payrolls on Friday."
The dollar rose 0.1 percent against a basket of currencies, mostly helped by a fall in the euro on speculation the European Central Bank could cut its interest rates to negative to ward off disinflation in the currency bloc at its next policy meeting on Thursday. European shares also moved higher.
Data on Thursday showed the U.S. economy grew a bit faster than previously estimated in the fourth quarter, while new claims for jobless aid dropped to a near four-month low last week.
The next focus for the market will be the March non-farm employment report due next Friday, which will give clues on the strength of the economy.
As a gauge of investor interest, holdings of the SPDR Gold Trust, the world's biggest gold-backed exchange traded fund, remained unchanged on Thursday after two straight days of outflows.
PHYSICAL DEMAND
In the physical markets, traders said demand could pick up, given the recent sharp fall in prices but remained cautious as consumers seemed uncertain about the price direction from current levels.
Prices in the world's biggest consumer, China, remained at a discount to spot prices - indicating lack of fresh demand.
Platinum was up 0.5 percent at $1,398.75 an ounce, while palladium gained nearly 1.5 percent to $764 an ounce as a miners' strike in South Africa continued for the tenth week.
"Platinum prices look rather cheap here considering the severity of the situation in South Africa," UBS said in a note.
"We expect deliveries to start struggling in April - current prices suggest that the market is not fully pricing in this risk, therefore any indication of producer difficulties in meeting their contractual agreements with customers in the coming weeks is likely to have a considerable price impact."
Silver gained 0.4 percent to $19.74 an ounce.