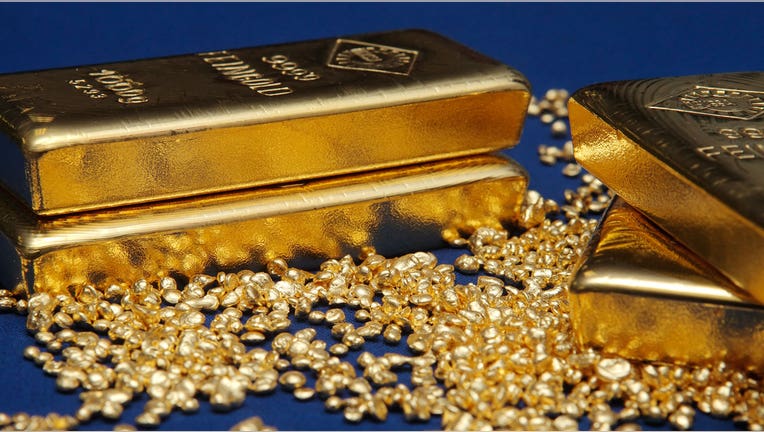 Gold prices were slightly lower on Friday as the dollar rose after a closely watched monthly U.S. jobs report underscored expectations of a steady recovery in the world's No. 1 economy, while platinum group metals were buoyed by strikes.
Spot gold was down 0.08 percent at $1,252.26 an ounce at 3:17 p.m. EDT (1917 GMT), off an earlier low of $1,246.5, while U.S. gold futures for August delivery settled at $1,252.5 an ounce, down 0.06 percent.
Traders had held off taking new positions ahead of the data after a near 1-percent gold price rally in the previous session following new stimulus measures from the European Central Bank.
While appetite for the metal initially picked up after the report, gains were capped by expectations that the Federal Reserve will continue to unwind its stimulus measures and that other assets will offer better returns, as well as the dollar's recovery.
"There can't be a substantial price rebound without any meaningful investor or consumer buying," VTB Capital analyst Andrey Kryuchenkov said.
"Major players will remain on the sidelines for now. European investors would be putting money into blue-chip equities, while with improving risk sentiment there is even less incentive to invest in gold."
Nonfarm payrolls increased 217,000 last month, the Labor Department said on Friday, against expectations for a 218,000 rise, while data for March and April was revised to show 6,000 fewer jobs created than previously reported.
The dollar initially fell after the report as U.S. Treasury yields dipped, but later rebounded. U.S. stocks rose.
Among other precious metals, platinum added to gains after South Africa's AMCU union president said the union's 12,500 rand ($1,200) per month wage demand was "non-negotiable", dashing hopes of a speedy resolution to a five-month strike.
Spot platinum touched fresh August 2011 highs of $844 per ounce and was up 0.5 percent at $1,444 an ounce, while spot palladium was up 0.8 percent at $842.00 an ounce, on track for its fourth straight week of gains.
"If after further arbitration, the strike is not resolved the government has the option of declaring the strike illegal," HSBC said in a note. "The apparent stalemate has boosted platinum group metal prices but we are mindful that any bearish news could take prices lower, at least in the near term."
Spot silver was down 0.11 percent at $18.98 an ounce, but the industrial metal put in its best week since mid-March.
(By Josephine Mason and Jan Harvey; Additional reporting by A. Ananthalakshmi in Singapore; Editing by Pravin Char and Grant McCool)