Gold Surge Draws Prospectors, Thieves Worldwide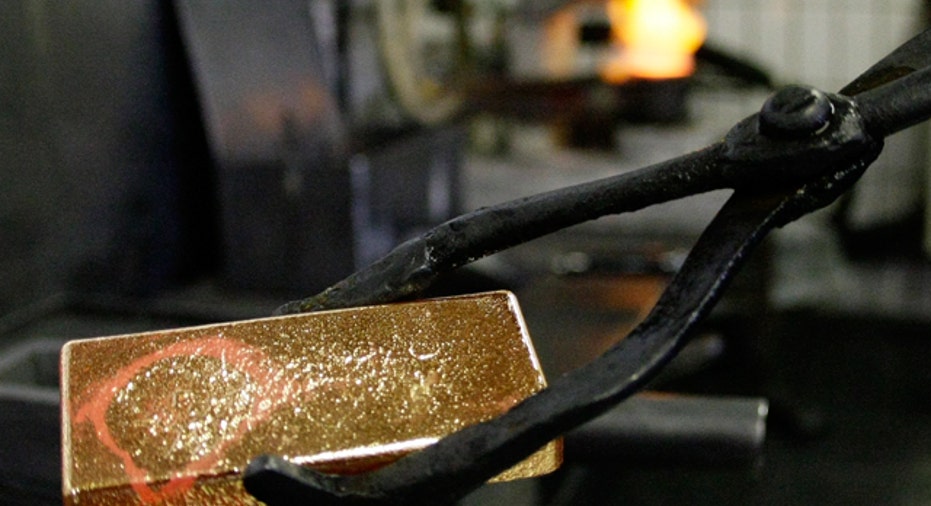 It has been called the saint-seducing metal, with good reason.
As the price of gold rests near record highs, people from Spokane to Bangkok are selling jewelry or buying bullion, some are giving up steady jobs to take to panning while theft of gold chains and watches is on the rise worldwide.
"Panning for gold is becoming a real family affair, more popular now because of the gold price," says Cordell Kent, who sells do-it-yourself mining equipment in the 19th century Australian gold rush town of Ballarat.
"Some people I know are making hundreds, even thousands of dollars on the weekends."
Locals say rising prices and heavy rain earlier this year are leading to a surge in amateur prospectors, looking for flakes of gold washing up on river-beds.
"We're seeing a whole new gold rush now around Ballarat," Kent says.
Spot gold sells now for $1,830 an ounce, up nearly a third this year. With currencies and stocks faltering and prices of other commodities held back by slowing economic growth, the frenzy for gold has gone global.
Many are cashing in on the gold they have at home -- or on gold teeth -- although the trend is slowing in the belief prices will rise further.
"The most disgusting thing I had to deal with was a rotten tooth with a gold crown from a customer's grandmother who died," said Munehiro Otsuki, the manager of a gold store in the Shinjuku district of western Tokyo.
He also had a customer seeking to sell half a dozen Buddha statues which he had thought were gold, but were in fact brass.
"When I called him this week after the evaluation, I could tell by the way his voice changed that he was extremely disappointed. He never came back."
At another store in the Kanda district of Tokyo, manager Kenta Okiyama spoke of a middle-aged woman dressed in brand-name clothes, the smell of her expensive perfume wafting across the store, who poured 30 rings of varying designs out on the table in front of her.
She told Okiyama these were rings she had received from ex-husbands and boyfriends back in the heyday of the 1980s, Japan's free-spending "bubble economy" era.
"When I showed her the 200,000 yen ($2,630) on the calculator screen, the expression on her face changed in a way I will never forget," Okiyama said. "She became so happy and smiled, saying 'I'll take it right now.'"
Ritsuko Aoki, a 40-year-old Tokyo housewife, said she was selling old jewelry to buy domestic appliances.
"We did not even think that my old gold accessories were worth anything before we saw news about people selling their gold on TV," she said. "If gold prices rise more, I'll look for more accessories in the depths of my closet."
VOLATILITY, HEDGING
But experts say sales of recycled gold will rise only about 5 percent this year, against 30 percent in 2009. "Either people are waiting till the price hits $2,000 or they are running out," says Mariabi Peenya, a street side dealer in New York's Diamond District.
Nevertheless, canny investors see opportunities in gold's price volatility. Although prices have been rising steadily since the start of the year, gold has veered between as low as $1,600 per ounce to as high as $1,900 in August.
And if dealing in physical gold, it's much easier since there are no brokerage fees or delays in payment.
"We bought and sold twice and made a nice tidy sum," says Ivy Mok, a mother of two who lives in Bangkok. "Not very huge because we sold, and then the price went even higher."
She and her husband dealt in small gold bars bought and sold in the well-guarded upstairs rooms of stores in the city's Chinatown district.
"People buy and sell their gold bars right there," Mok said. "But it was very stressful for me because once you are on the streets, you are on your own with all your gold bars and you feel very vulnerable."
Her fears are not unfounded. One of the unsavory sides of gold's price surge has been a matching surge in crimes associated with the metal.
Dubai, Casablanca, Pathanamthitta in southern India, all have been hit by major robberies linked to gold in recent weeks. In Ghana, a gold dealer is being accused of fraud after he alleged he was held up and robbed of gold he had promised to customers.
Snatchings of gold chains are on the increase in London, China, across the United States and many other parts of the globe, but especially in India, which is the world's biggest buyer of gold.
In northern Vietnam, a gold shop owner, his wife and 19-month-old daughter were killed and the shop robbed 10 days ago in one of the most violent crimes in the country in years. Another daughter was discovered cowering under a bed with her hand severed.
In France, there were 183 armed robberies of jewelers in the first half of 2011, up from 138 in the year-earlier period, according to OCLCO, a police agency that tackles organized crime.
"If gold is a safe haven for people with savings, it is also becoming it would seem a safe haven for armed robbers," said Frederic Doidy, an officer with OCLCO.
(Additional reporting by Thuy Tran in HANOI, Jim Regan in SYDNEY, Mehdi-Nicolas El Moueffak and Marion Douet; in PARIS, Frank Tang and Paula Rogo in NEW YORK; Writing by Raju Gopalakrishnan, Editing by Jonathan Thatcher)