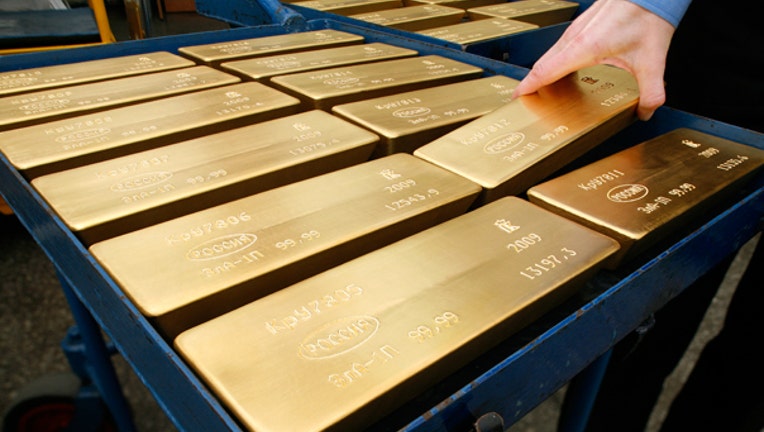 Gold steadied on Friday and was on track to end the week little changed as rising U.S. yields and a firmer tone to economic data lifted stock markets and the dollar, putting the brakes on a rally that had taken prices to 3-1/2 month highs.
The metal hit its highest since Oct. 31 on Tuesday at $1,332.10 after last week posting its biggest weekly gain since mid-August at more than 4 percent.
Prices had taken support from a run of softer-than-expected U.S. data, which led to speculation that the Federal Reserve would slow the tapering of its bullion-friendly stimulus measures.
But well received U.S. economic data on Thursday lifted the dollar, helping pull the metal down from its recent highs.
Spot gold was at $1,322.10 an ounce by 1247 GMT, little changed from $1,322.51 late on Thursday, while U.S. gold futures for April delivery were up $5.20 an ounce at $1,322.10.
"The news during the week has been mixed," Saxo Bank's head of commodity research Ole Hansen said. "Traders who filled their boots on the break up are now getting a bit nervous.
"The risk into next week is that we may need to check the strength of support, as any additional buying from these levels would need an event," he said.
The dollar rose against a basket of currencies on Friday, on track for its first weekly gain in three weeks, boosted by higher U.S. yields and data that underpinned hopes for sustained economic strengthening.
The number of Americans filing new claims for unemployment benefits fell last week, suggesting the labour market has continued to pick up steadily despite recent severe cold weather, while financial data firm Markit said U.S. manufacturing activity this month reached its fastest growth rate in nearly four years.
European shares climbed, with France's CAC 40 hitting a 5-1/2-year peak, and U.S. stock index futures also rose, indicating that a rally that lifted the S&P 500 close to record levels in the previous session could continue.
ASIAN DEMAND WILTS
Buying in Asia, a major demand centre for physical gold, remained light.
"Premiums on the Shanghai Gold Exchange continue to dwindle, trading as low as $2 over spot yesterday," MKS Capital said in a note. "The declining physical demand out of China, alongside the continuing tapering by the Federal Reserve, seems to be preventing the market breaking higher."
Dealers saw purchases in the physical market this week, but many jewellers could be waiting for a correction. Premiums for gold bars were steady in Hong Kong and Singapore but fell in Tokyo because of gains in Tokyo gold futures.
"I think (the price) is a little bit too high for Asians to buy gold, because we've been below $1,300 for a long time and people bought a lot," Yuichi Ikemizu, branch manager for Standard Bank in Tokyo, said.
The world's largest gold-backed exchange-traded fund, New York's SPDR Gold Shares, is on track for its first weekly outflow in four weeks, of 5.6 tonnes.
Among other metals, silver was down 0.3 percent at $21.72 an ounce, while spot palladium was little changed at $734 an ounce. Spot platinum bucked the trend to rise 0.3 percent to $1,413.70 an ounce.
Dealers said a violent attack in the turbulent, strike-hit platinum mining belt in South Africa lifted prices. A miner was killed by group of men at mine belonging to Anglo American Platinum, police said on Friday.