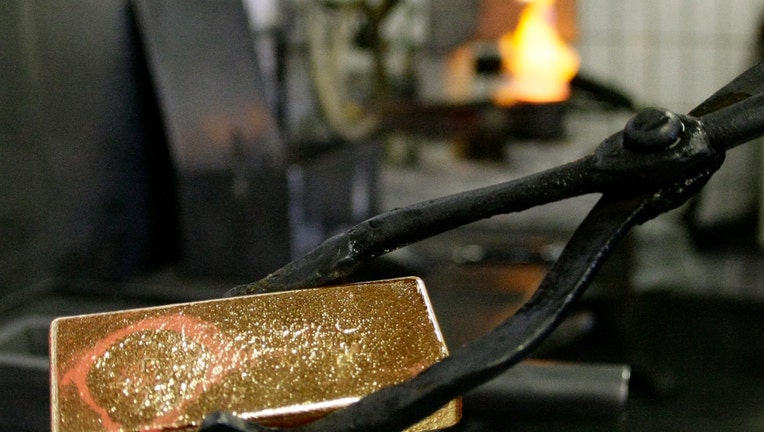 Gold fell nearly 2 percent on Tuesday as strength in the dollar following forecast-beating U.S. retail sales data prompted investors to cash in on gains after a rally to three-week highs in the previous session.
Selling accelerated after prices, which peaked at $1,330.90 on Monday, broke through support at $1,317 an ounce, their 50-day simple moving average, and at $1,307, formerly an area of resistance when prices were rising.
Spot gold was down 1.8 percent at $1,302.34 an ounce at 1208 GMT, having earlier hit a low of $1,300.80. U.S. gold futures for June delivery were down $24.20 an ounce at $1,303.30.
"There is weakness across the commodities, spurred by a somewhat stronger dollar and somewhat weaker Chinese markets," Commerzbank analyst Eugen Weinberg said. "Some investors (are) taking profits after the strong price increases we've seen recently."
"There is still potential for some further profit-taking," he added.
The dollar rose against a basket of major currencies on Tuesday after U.S. retail sales data the previous day signalled a brighter outlook for the U.S. economy.
Growing optimism about U.S. growth was one of the main factors in gold's 28 percent decline last year as funds pulled money out of bullion to invest in higher-yielding assets such as stocks on expectations interest rates would rise.
But increasing political tensions between the West and Russia this year over Ukraine, along with concerns about the Chinese economy, have boosted demand for gold in recent weeks. The metal is up 10 percent for the year.
Caution over Ukraine capped gains in the dollar and also weighed on stock markets, with the threat of costly sanctions against Russia capping appetite for equities.
Traders were awaiting the outcome of a meeting between representatives of Russia, the United States, the European Union and Ukraine on Thursday, an attempt to help resolve the crisis through diplomatic efforts.
"It is unlikely that the short holiday week in Europe and the United States will see much action unless geopolitical fears escalate from here," VTB Capital said in a note on Tuesday.
CHINESE DEMAND SOFT
Physical demand in top consumer China remained weak, with Shanghai prices trading at a discount of about $1 an ounce to spot prices.
Chinese firms may have locked up as much as 1,000 tonnes of gold in financing deals, a report from the World Gold Council said on Tuesday, indicating that a big slice of imports had been used to raise funds due to China's tight credit conditions rather than to meet consumer demand.
The financing-related buying in the world's top gold consumer means prices could come under pressure if imports are hit by a broader crackdown on using commodities for finance.
SPDR Gold Trust, the world's largest gold-backed exchange-traded fund and a good measure of investor sentiment, said its holdings rose 1.8 tonnes to 806.22 tonnes on Monday - the first increase since March 24.
Among other precious metals, palladium fell 1 percent after five straight days of gains, though it was still near its highest since August 2011 on fears that U.S. sanctions on No.1 producer Russia would curb supply and on prolonged mine strikes in South Africa.
Spot palladium was down 1.8 percent at $792 an ounce. Silver was down 1.4 percent at $19.64 an ounce, while spot platinum was down 1.5 percent at $1,437.66 an ounce. (