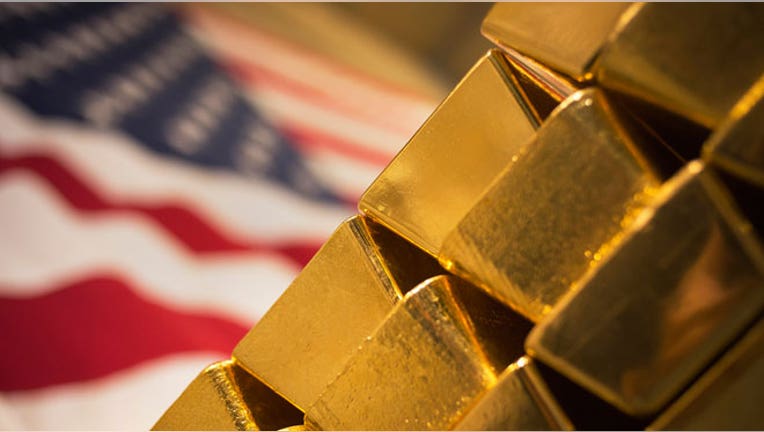 Gold fell on Monday as the dollar firmed on speculation of an earlier-than-expected hike in U.S. interest rates following strong jobs data, which dented investment demand for the metal.
Gold has been under pressure since data on Thursday showed U.S. employment growth jumped in June and the jobless rate closed in on a six-year low, evidence of brisk economic growth.
The numbers led investors to bring forward their views on timing of the first rate hike by the U.S. Federal Reserve to the middle of 2015, although most economists said that more data was needed.
An interest rate rise would encourage investors to withdraw money from non-interest-bearing assets such as gold.
"The good U.S. payrolls report has put the focus on interest rates expectations, and that's why gold and silver have been moving lower," ABN Amro analyst Georgette Boele said.
"If data continues to come in strong, it will be very interesting to see if the Fed's rhetoric changes, and that could have a dramatic impact on U.S. interest rates expectations for 2015."
Spot gold slipped 0.4 percent to $1,315.60 an ounce by 1219 GMT, while U.S. gold futures for August delivery were down 0.3 percent at $1,316.60 an ounce.
The dollar was up for a fifth straight day to trade near its highest in almost two weeks against a basket of currencies. It gained support from the steady climb in U.S. bond yields since last week's robust U.S. jobs report.
Returns from U.S. bonds are closely watched by the gold market, given that the metal pays no interest, as these are viewed as a key indicator of Fed action in the coming months, analysts said.
Gold prices are expected to retest a support level at $1,311, with a good chance of breaking below this and falling to $1,297, Reuters technicals analyst Wang Tao said.
Speculators raised net long positions in gold by 22,573 contracts to 136,929 in the week to July 1, data from the Commodity Futures Trading Commission showed on Friday.
Physical demand showed some sign of improvement after remaining subdued for months, while selling of recycled gold increased as prices moved above $1,300 an ounce, traders said.
"This is likely to cap the upside for the time being, while investor bargain hunting is expected to lend ongoing support to the metal between $1,300 and $1,310," German refiner Heraeus said.
Among other precious metals, silver fell 0.8 percent to $20.97 an ounce, while platinum was up 0.7 percent to $1,499.25 an ounce.
Palladium rose 0.5 percent to a fresh 13-year high of $865.75 an ounce on strong demand from the auto industry, which uses the metal in catalytic converters in vehicle engines.
Palladium had a boost from last week's data showing that U.S. auto sales hit an eight-year high in June and from continued supply worries from major producer South Africa.
South Africa's Impala Platinum said on Monday workers were continuing a wildcat strike over wages at its Marula mine. Around 2,000 workers affiliated with the National Union of Mineworkers (NUM) downed tools at the mine on Friday, demanding higher wages. "The work stoppage is still continuing today," Implats spokesman Johan Theron said.