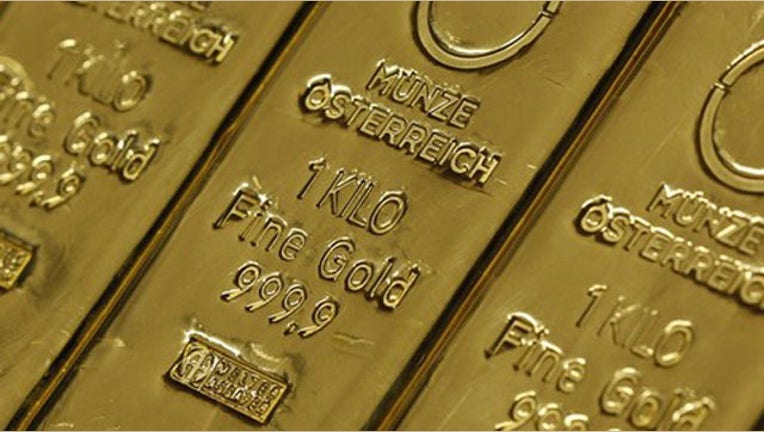 Gold steadied above a two-month low on Friday after a five-day losing streak and was headed for its biggest weekly loss in five, hurt by strong U.S. economic data and speculation the Federal Reserve could raise interest rates sooner than expected.
Bullion has been hit hard after minutes from the Fed's July meeting on Wednesday showed policymakers debated whether interest rates should be raised earlier given a surprisingly strong job market recovery.
The metal came under further pressure on Thursday when a break below the 200-day moving average of $1,284 an ounce triggered stops losses -- automatic sale orders placed by traders at pre-set levels to limit losses -- and sent prices tumbling more than 1 percent.
Spot gold was up 0.1 percent at $1,278.35 an ounce by 1338 GMT, not far from a two-month low of $1,273.06 hit on Thursday. The metal is down almost 2 percent for the week, the biggest drop since the week ended July 18.
U.S. gold futures gained 0.3 percent to $1,278.90.
The dollar hovered below its 2014 peak against a basket of major currencies ahead of an eagerly awaited speech by U.S. Federal Reserve Chair Janet Yellen at the annual gathering of central bankers in Jackson Hole, Wyoming.
Any further strengthening of the U.S. currency is likely to add pressure to gold by making the metal more expensive for holders of foreign currencies.
But a dovish speech from Yellen, who in July stressed that there was still significant slack in labor markets, would counter this week's Fed minutes.
Higher interest rates would dull the attractiveness of non-interest-bearing assets such as gold.
"The focus of Jackson Hole is the labor market and I think Yellen will stick to her usual (dovish) script," Natixis analyst Bernard Dahdah said.
"There is some speculation that if the data from the United States continues to surprise on the upside, the Fed will increase interest rates earlier than expected but we believe the hike will still be in mid-2015."
Data on Thursday showed U.S. home resales raced to a 10-month high in July, while the number of Americans filing new claims for jobless benefits fell last week, signaling strength in the economy and reducing gold's appeal as an alternative investment.
Gold failed to gain support from escalating tensions over Ukraine that halted an earlier rise in European stocks.
"Although we had some escalation in the Russia-Ukraine tensions, the market today is rather focusing on the United States," Dahdah said.
Physical demand in major consumers China and India remained weak. Analysts, however, expected buying from India to increase heading into the festival and wedding season, when it is traditionally considered auspicious to buy gold.
"Lower gold prices are coming at an opportune time for the Indian market, which is on the cusp of its seasonally busy period," UBS said in a note.
Silver was down 0.2 percent at $19.41 an ounce, having touched a two-month low of $19.25 in the previous session.
Spot platinum snapped a nine-day losing streak, its longest since July 2008, up 0.2 percent to $1,412.74 an ounce. Spot palladium was up 0.8 percent to $880.90 an ounce.