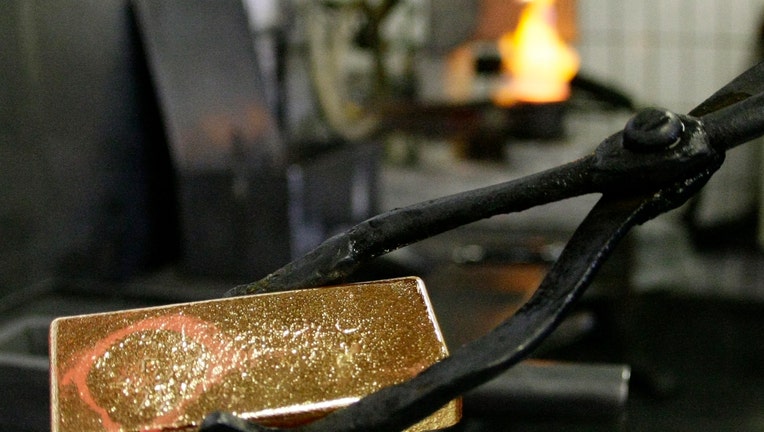 Gold prices eased on Monday, retreating from the 10-week highs they hit overnight on the back of weakness in global stocks, as traders cashed in gains in the metal ahead of a key Federal Reserve meeting this week.
Expectations that the Fed could trim monetary stimulus further from the $10 billion-a-month reduction to its bond-buying programme late last year sreved to lift the dollar, while safe-haven currencies such as the yen were in demand as a sell-off in emerging markets continued.
Spot gold was at $1,263.60 an ounce by 1239 GMT, down 0.4 percent, having hit its highest since mid-November overnight at $1,278.01 an ounce. U.S. gold futures for February delivery were down 60 cents an ounce at $1,263.70.
The metal is struggling to maintain last week's gains ahead of the Fed's two-day policy meeting, which starts on Tuesday
"It seems a breakout to the 1300-1330 mark is on hold for now, but it depends on what happens with the Fed this week," Mitsubishi analyst Jonathan Butler said. "The consensus is that there'll be a further round of $10 billion-a-month tapering. If there's anything less than that, gold could move higher as speculators move in."
A 2.3 percent drop in world stocks last week helped to push gold higher for a fifth straight week - its longest run of weekly gains since mid-2012.
Stock markets fell further on Monday as concerns about China's economic slowdown and its shadow banking sector, coupled with expectations the Fed would scale back its bond buying, piled pressure on emerging markets dependent on external financing.
In the longer term, any recovery in equities would be likely to curb gains in the precious metal, Butler said.
"This setback in the equities market and this risk-off mentality overall isn't going to endure in the medium term," he said. "Once we see more positive U.S. data and positive earnings, that will weigh on gold once again."
CHINESE DEMAND EASES
China's net gold imports from Hong Kong rose 24 percent in December from the previous month, the Hong Kong Census and Statistics Department said on Monday, bringing total purchases for 2013 to a record 1,158 tonnes.
Net gold flows into China, the world's biggest gold consumer, climbed to 94.847 tonnes in December from 76.393 tonnes in November, it said.
With the recent rally in gold prices, purchases from China slowed on Monday with volumes lower than Friday's. Premiums for 99.99 percent purity gold on the Shanghai Gold Exchange steadied at about $10 to London prices after an earlier fall to $7.
"With the imminent Chinese New Year holiday beginning, demand will likely waver later in the week," bullion dealer MKS said in a note on Monday.
More positively for gold, India's finance ministry said it will review its tight curbs on gold imports by the end of March.
India used to be the world's biggest buyer of bullion until last year, when a swollen current account deficit prompted the government to slap a record 10 percent duty on imports and the central bank to tie imports to exports.
Data from the Commodity Futures Trading Commission on Friday showed that speculators boosted their length in gold in the week to Jan. 21, though they slashed their net long positions in silver.
Silver was flat at $19.85 an ounce. Among other precious metals, spot platinum was down 0.2 percent at $1,420.49 an ounce, while spot palladium was down 0.4 percent at $728.50 an ounce.