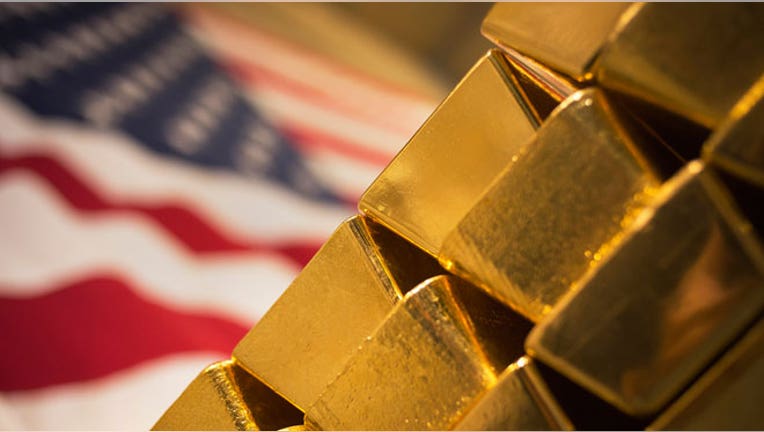 Gold fell to a six-month low in thin year-end trade on Tuesday, notching up its biggest annual decline in 32 years as prospects for global economic recovery prompted investors to switch to riskier assets.
After a 12-year bull run, gold has shed 28 percent in 2013, with the U.S. Federal Reserve's plan to step away from ultra-loose monetary policy undermining the investor rationale for holding bullion.
Years of accommodative monetary policies had propelled the price of gold to all-time highs of $1,920.30 an ounce in September 2011, as low interest rates encouraged investors to put money into non-interest-bearing assets.
In choppy trade on Tuesday, spot gold fell 1 percent to its lowest since June 28 at $1,184.50 an ounce, before recovering its lost ground. Prices were up 0.38 percent at $1,201.13 per ounce at 2:29 p.m. EDT (1929 GMT).
U.S. gold futures for February delivery settled at $1,202.3, down $1.5 an ounce, having earlier fallen to a low of $1,181.40. That was down 28 percent from the end of last year.
Bullion was the third-largest loser for the year on the 19-commodity Thomson Reuters/Core Commodity CRB index, after corn and silver.
"For the first three months of the year at least we are quite pessimistic on gold and a break below $1,180 could trigger further declines to the $1,000 mark," T-Commodity partner Ganclaudio Torlizzi said.
"Moreover, the dollar should strengthen towards the euro in January, as the economy improves, and that's another bearish element for gold," he added. "For the time being, investors will continue to put their money into equities."
World stocks were ending 2013 close to six-year peaks and benchmark bond yields were poised for their first annual rise since 2009 as investors celebrated a pick-up in global growth with expectations of more to come.
The dollar was on track to end 2013 modestly higher against a basket of main currencies.
Trading on Tuesday was volatile with prices falling 1 percent in early New York trade as investors sold bullion at a loss to offset any tax liabilities from bumper equity markets, dealers said.
The market rebounded almost as quickly after prices hit six-month lows.
"We had a final run of tax-loss selling and then dealers swooped in seeing it was an artificial sell-off," said Bill O'Neill, a partner in the commodities investment firm LOGIC Advisors.
Gold was also set to post hefty annual losses in other currencies, with prices in euros down 31 percent on the year, the first fall since 2004. Prices fell 30 percent in Swiss francs and 29 percent in British pounds .
FUND LIQUIDATION
A drop in exchange-traded fund holdings showed investors had lost faith in bullion as a hedge against inflation and an alternative investment after the U.S. Federal Reserve announced plans to trim its monthly bond purchases.
Holdings in the SPDR Gold Trust, the world's largest gold-backed exchange-traded fund, fell 0.37 percent to 798.22 tonnes on Monday, their lowest since January 2009.
In Singapore, premiums for gold bars were unchanged at $1.50 an ounce to spot London prices, while in Hong Kong, offers stood at between $1.50 and a high of $2.00.
Silver was down 1.13 percent to $19.43 an ounce. Silver is down 36 percent this year in its worst annual performance since at least 1982, making it the worst-performing precious metal in 2013.
Spot platinum was up 0.8 percent at $1,376.0 an ounce and on course to post an 11 percent annual loss. Best-performing palladium rose 0.9 percent to $718.10 an ounce and was ending year up 2 percent.
(By Clara Denina)