Gold Dips on Better-than-Expected U.S. Jobs Data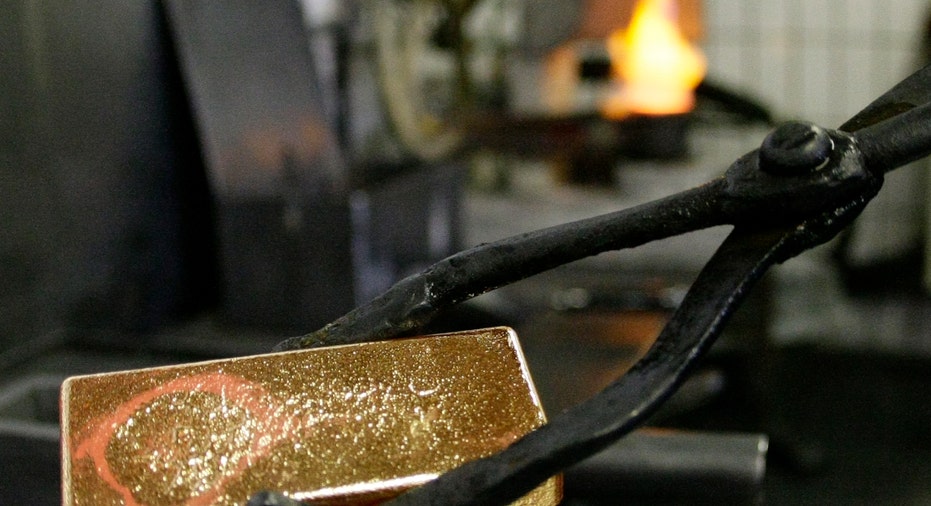 Gold fell below $1,200 an ounce for the first time this year on Friday as the dollar jumped after better-than expected U.S. non-farm payroll data, which could bolster bets on a Federal Reserve rate hike in mid-2015 or even earlier.
U.S. non-farm payrolls rose by 248,000 jobs, and the jobless rate fell to 5.9 percent last month, the lowest since July 2008, the Labor Department said. Economists polled by Reuters had expected a jump of 215,000.
Spot gold fell as much as 1.4 percent to its lowest since Dec. 31 at $1,195.38 an ounce and was down 1.3 percent at $1,197.06 by 1323 GMT.
U.S. gold futures dipped to $1,196.30 an ounce.
"The move in the dollar has been quite drastic after the good U.S. non-farm payrolls number, and we came down below $1,200, and there is a good possibility that we'll go some $10-$20 lower over the next few hours," MKS SA head of trading Afshin Nabavi said.
The dollar rose more than 1 percent against a basket of currencies to its highest in more than four years and was on track for a 12th straight week of gains, a feat not seen in four decades.
A stronger U.S. currency weighs on dollar-denominated assets such as gold.
Fed policymakers will scrutinize the data as they prepare for a policy meeting on Oct. 28-29. The central bank has kept benchmark lending rates near zero since December 2008, and financial markets do not foresee an increase until around the middle of next year.
Gold has benefited greatly from increased central banks' liquidity and a low rate environment in the years since the financial crisis. A rate increase in the United States would discourage investment in non-interest-bearing assets such as bullion.
"What causes the big swings in precious metals is what investors are doing, and if the dollar is strong and U.S. yields are higher, then gold becomes one of the least attractive assets for them because it holds no coupon," ABN Amro analyst Georgette Boele said.
With top buyer China on a week-long holiday, gold was not getting much help from the physical markets.
"When the Chinese and Indian markets come back next week, they may see lower prices as a good buying opportunity, so possibly some support will come from physical demand in Asia," Nabavi said.
As a gauge of poor investor sentiment, holdings of the SPDR Gold Trust, the top gold-backed exchange-traded fund, fell 1.19 tonnes on Thursday to 767.47 tonnes, its lowest level since December 2008.
PLATINUM DOWN
Platinum was the biggest loser among precious metals on Friday, falling nearly 2 percent to its lowest since September 2009 at $1,234.60 an ounce before paring some losses to trade down 1.4 percent at $1,242.49.
"Platinum group metals continue to be subject to investor liquidation, which is more than offsetting physical interest," HSBC analyst James Steel said. "Bargain-hunting may emerge if the platinum-gold spread contracts further."
The spread was around $30 an ounce on Friday versus the $130 seen at the beginning of September.
Silver was down 1.1 percent at $16.88 an ounce after earlier touching its lowest level since March 2010 at $16.78. Palladium was down 0.6 percent at $760.25 an ounce.