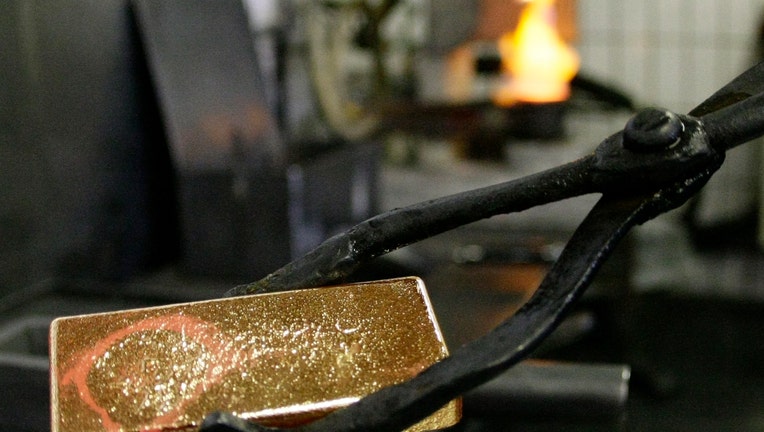 Gold fell on Tuesday after posting its strongest daily gain in nearly two weeks on Monday, as the dollar steadied and investors assessed that weak U.S. data would not derail the world's largest economy from its recovery path.
Bullion has gained 4 percent so far this year, after a 28 percent drop in 2013, as slowing growth in China and capital outflows from emerging nations hit share markets.
Gold, usually regarded as a safe haven, tends to appreciate when riskier assets like equities lose ground, as investors look for alternatives to protect their money.
However, analysts see any rally in the gold price as a selling opportunity, with current global economic concerns not seen as sufficient to derail the U.S. Federal Reserve's move to taper monetary stimulus.
Gold had been lifted by disappointing U.S. economic data on Monday, including a report from the Institute for Supply Management showing the sharpest slowdown in growth in new orders in 33 years in January.
"The weak U.S. manufacturing data yesterday gave gold a boost but for now it seems the figure can be explained by the same factor that explained the weak January non-farm payrolls report: the weather," Macquarie analyst Matthew Turner said.
"And until there are more definitive signs this is the start of a new economic slowdown, or any certainty that Fed policy would change course, even if it was, there is going to be no conviction to gold's upside moves."
Spot gold was down 0.2 percent at $1,254.60 an ounce by 1249 GMT. It posted its best daily performance in nearly two weeks on Monday, gaining 1.1 percent, on the disappointing U.S. manufacturing data.
Natural gas production, comparing the same periods, fell by close to 12 percent to 3.35 billion tonnes, MENA said.
The dollar was up 0.1 percent versus a basket of main currencies, reflecting a drop in the volatility that has accompanied recent turbulence in emerging markets as investors shifted money to traditional safe havens in the developed world.
European shares slipped, following a fall in Asian markets and the worst drop since June on Wall Street.
Market focus will now turn to Friday's U.S. non-farm payrolls report, although U.S. durable goods and factory orders scheduled for release later on Tuesday should also give further clues on the state of the U.S. economy.
With the recent data and emerging market troubles, SPDR Gold Trust, the biggest gold-backed exchange-traded fund, has not seen any outflows in more than a week.
Holdings are still near five-year lows as the fund had seen record outflows of more than 17 million ounces last year.
Physical markets were quiet as China, the world's biggest consumer, was closed for the Lunar New Year holiday.
Spot silver rose 0.5 percent to $19.42 an ounce. Palladium was up 0.2 percent to $700.70 an ounce, having earlier fallen to its lowest since Dec. 27 at $695.60.
Platinum fell 0.2 percent to $1,377.25 an ounce, as wage talks resumed between South Africa's AMCU miners' union and the world's top three platinum producers with hopes to end a nearly two-week strike costing the industry $36 million a day