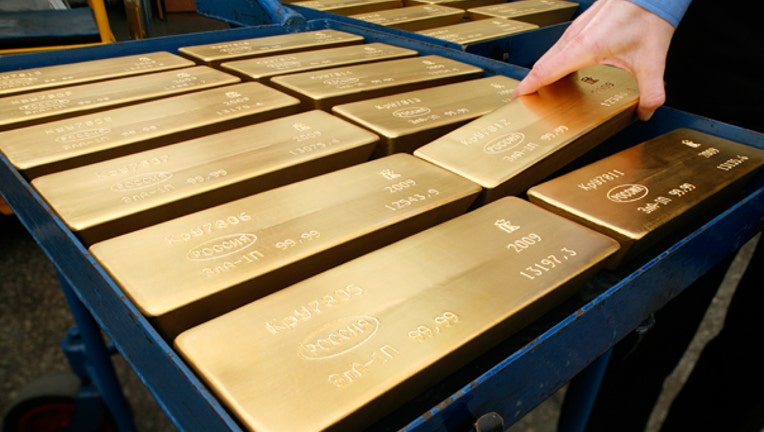 Gold struggled below $1,300 an ounce on Friday, as data indicating brighter prospects for the U.S. economy reinforced the view that the Federal Reserve will maintain its pace of stimulus tapering.
Platinum was headed for its biggest weekly gain in three months on supply worries due to prolonged strikes in top producer South Africa, while palladium was poised for a weekly increase of around 1 percent.
Spot gold eased 0.1 percent to $1,294.41 an ounce by 1454 GMT, while U.S. gold futures rose 0.1 percent to $1,294.60 an ounce.
"In the short term, we may be go below $1,250 as investment and physical demand remains lackluster," MKS SA head of trading Afshin Nabavi said.
"The dollar is generally strong after good sets of data and that's an indication that gold is vulnerable to more losses."
The dollar was unchanged against a basket of currencies, while U.S. 10-year Treasury yields edged above 2.5 percent. Returns from U.S. bonds are closely watched by the gold market, given that the metal pays no interest.
In the latest economic data, U.S. housing starts jumped 13.2 percent in April while building permits hit their highest level in nearly six years, offering hope that the troubled housing market could be stabilizing.
The metal was still up 0.5 percent for the week on earlier gains from political uncertainty in Ukraine that has increased tensions between Russia and the West.
Gold is often seen as an insurance investment against financial or political troubles.
"Despite Thursday's modest selloff in gold, we remain constructive on the precious metal short-term, as there are too many geopolitical hot spots that still have the capacity to flare up rather unexpectedly," INTL FCStone said in a note.
Investor interest perked up as SPDR Gold Trust, the world's biggest gold-backed exchange-traded fund, showed a modest increase in flows. Holdings in the fund rose 1.79 tonnes to 782.25 tonnes on Thursday - the first inflow in a month.
Data showed that hedge fund Paulson & Co, the largest institutional investor in SPDR, kept its stake in the fund unchanged in the first quarter as bullion prices rebounded from their biggest annual loss in 32 years in 2013.
In other precious metals, platinum producer Lonmin said on Thursday it might go to court in an attempt to stop a 16-week strike because of the levels of violence faced by workers who want to return to work.
The world's second-biggest platinum supplier, Impala Platinum, has lost around 246,000 ounces of production during the strike period, while no further output is expected in the second quarter.
The stoppage has hit about 40 percent of global production of the metal used for emissions-capping catalytic converters in automobiles, with about 880,000 ounces lost to date, according to Reuters calculations.
Platinum was up 0.1 percent at $1,465 an ounce after rising to $1,483.50 on Wednesday, while palladium was up 0.6 percent to $813.47 an ounce but still near its 2-1/2-year peak of $827.50 set earlier in the week.
Spot silver fell 0.5 percent to $19.37 an ounce