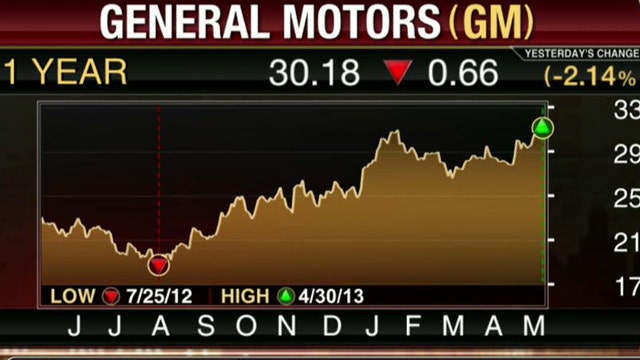 General Motors (NYSE:GM) logged an 15.6% contraction in first-quarter earnings on Monday amid dipping profits in North America, but the auto giant's results still managed to easily outstrip expectations.
Wall Street cheered the earnings beat from the maker of Chevrolet and Cadillac, bidding its shares 3% higher in premarket trading.
GM said it earned $865 million, or 58 cents a share, last quarter, compared with a profit of $1 billion, or 60 cents a share, a year earlier.
Excluding one-time items, the auto maker earned 67 cents a share, surpassing the Street's view of 54 cents.
Revenue retreated 2.4% to $36.9 billion, narrowly besting consensus calls from analysts for $36.6 billion.
"The year is off to a solid start as we increased our global share with strong new products that are attracting customers around the world," CEO Dan Akerson said in a statement. "We saw progress in Europe thanks to strong cost actions and great vehicles like the Opel Adam and Mokka."
Global market share ticked up to 11.4% in the first quarter, compared with 11.2% the year before.
While GM had been able to rely on steady growth from its home region, that trend stalled in the first quarter.
The No. 1 U.S. auto maker reported adjusted profits of $1.4 billion in North America, down from $1.6 billion the year before. U.S. market share expanded to 17.7% from 17.2%, while North American market share rose to 17.1% from 16.7%.
On the other hand, GM's biggest problem area -- slumping Europe -- narrowed its adjusted loss to $200 million from $300 million the year before. European market share inched up to 8.3% from 8.2%.
GM's international operations logged adjusted profits of $500 million, matching the year-earlier period, while its South American division broke even after having earned $200 million the year before. South American market share shrank to 17.2% from 18.3%.
Detroit-based GM saw its shares drive 3.05% higher to $31.10 ahead of Thursday's opening bell. The rally puts GM in position to expand its subpar 4.7% 2013 gain.