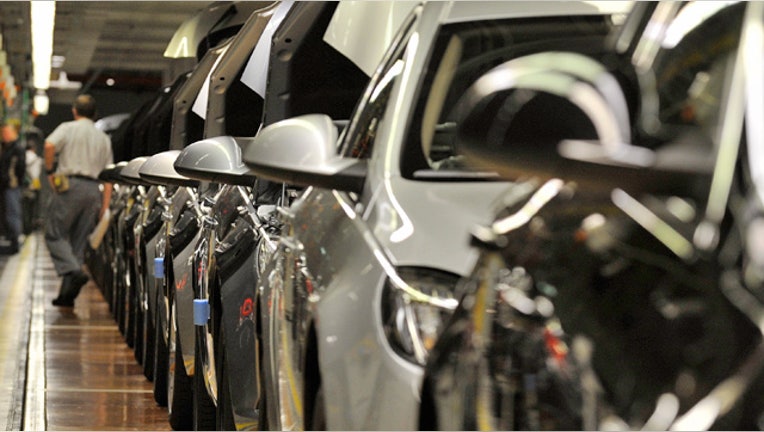 General Motors (NYSE:GM) recorded U.S. sales growth of 7.2% in February amid a surge in crossover and truck sales, as well as improved performance from luxury brands Cadillac and Buick.
The company extended a string of positive February sales for the auto industry when it announced on Friday that it sold 224,314 vehicles last month. GM saw sales growth across all of its brands. Cadillac sales grew 20% and Buick posted a 15% gain, while GMC sales rose 10% and Chevrolet was up 5%.
Results beat expectations from car-shopping website Edmunds.com, which expected a 4.6% sales increase at GM.
Sales of GM's full-size pickup trucks, including the Chevrolet Silverado and GMC Sierra, surged 28% to 58,039 total units amid a recovering housing market. The Silverado registered sales growth of 29%, and sales of the Sierra were up 25%.
"The housing sector has now joined auto sales in propelling the U.S. economy forward," Kurt McNeil, GM's vice president of U.S. sales operations, said in a statement. "More importantly, the recovery in new home construction is reinforcing the underlying improvement in auto buying conditions, especially for pickups."
Chevrolet and GMC are preparing for the release this year of redesigned trucks. GM also noted on Friday that a new Cadillac CTS, as well as redesigned Buick LaCrosse and Regal models, will be unveiled later this month at the New York International Auto Show.
Crossover sales, a category that includes the Chevrolet Equinox and Buick Enclave, jumped 17%.
Buick and Cadillac had the most improved February sales. Total sales at Buick checked in at 16,150 vehicles and Cadillac sales totaled 13,845.
Chevrolet topped all other GM brands in total sales with 158,541 cars sold, while GMC recorded sales of 35,778 units.
GM was the last of the three major U.S. automakers to release its February sales results. The company's total sales for the month surpassed Ford Motor's (NYSE:F) 195,310 vehicles sold and Chrysler Group's 139,015.
Ford registered a 9.3% jump in U.S. new vehicle sales last month, despite weaker sales at its luxury brand Lincoln.
Chrysler's auto sales rose 4.1%, its best February since 2008, on stronger Dodge sales.
Shares of GM were up 22 cents to $27.37 a share Friday morning.