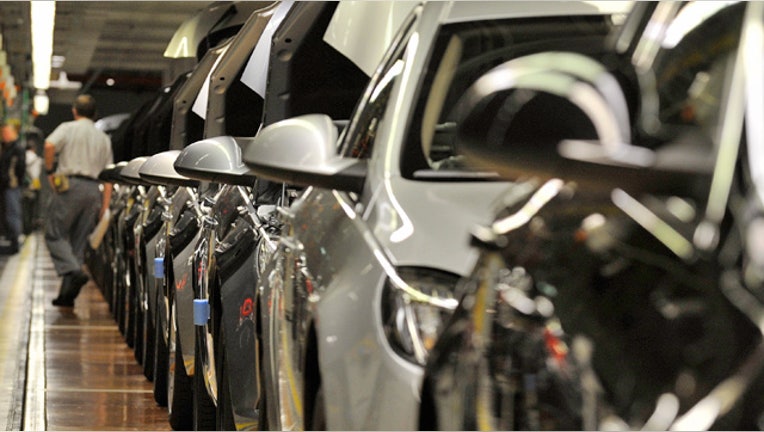 General Motors (NYSE:GM) logged weaker-than-expected fourth-quarter profits on Thursday as the auto maker lost market share and continued to stumble in Europe.
Shares of the largest U.S. auto maker ticked about 2% higher despite the earnings miss.
GM posted net income of $892 million, or 54 cents a share, last quarter, compared with a profit of $472 million, or 28 cents a share, a year earlier.
Excluding one-time items, it earned 48 cents a share, lagging three cents behind the Street's view.
Revenue rose 3% to $39.3 billion, narrowly topping estimates from analysts for $39.15 billion.
GM said its global market share dipped to 11.5% from 11.6% the year before, highlighted by a slide in the U.S. to 17.1% from 18%.
"We recorded another solid year in 2012 as we grew the business, delivered a third straight year of profitability and took significant actions to put the company on a solid path for future growth," CEO Dan Akerson said in a statement.
Despite the progress, GM continues to struggle in Europe, where it suffered an adjusted loss of $699 million in the fourth quarter, compared with a loss of $562 million the year before.
Profits in North America fell 6.8% to $1.4 billion, while South America swung to a profit of $99 million from a loss of $225 million. GM's international operations division generated a 26.8% jump in profits to $473 million.
On its balance sheet, GM ended 2012 with automotive liquidity of $37.2 billion, up from $37 billion the year before. Automotive cash and marketable securities stood at $26.1 billion, down from $31.6 billion at the end of 2011.
GM's fourth quarter included a number of one-time items, including a cash charge of $26 billion for goodwill and a gain of $34.9 billion on valuation allowances on U.S. and Canada deferred tax assets.
Shares of Detroit-based GM rallied 1.6% to $29.15 Thursday morning, leaving them up about 1% on the year.