GM Hands Keys to Mary Barra, Detroit's 1st Female CEO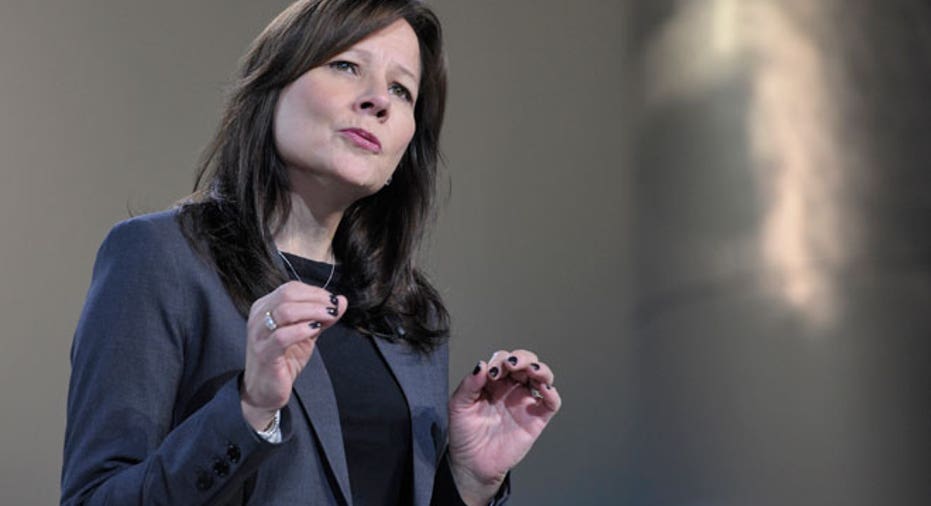 General Motors (NYSE:GM) tapped products chief Mary Barra to become the auto maker's first female CEO, taking the keys from current chief Dan Akerson who will step down ahead of schedule in January.
The promotion of Barra instantly makes her the most powerful woman in Detroit and one of the most influential in corporate America.
"I've been in this business for 30 years and I never thought I would see this happen. I've seen a lot of great women get near the top and then they would leave for another industry" said Michelle Krebs, senior analyst at Edmunds.com.
The move comes just hours after the Treasury Department exited its ownership of GM following the auto bailouts of 2008 and 2009.
"I will leave with great satisfaction in what we have accomplished, great optimism over what is ahead and great pride that we are restoring General Motors as America's standard bearer in the global auto industry," Akerson, 65, said in a message to employees.
GM said Akerson decided to move up his departure date by several months after his wife was recently diagnosed with an advanced stage of cancer.
'Extremely Capable' 
With 33 years at the auto maker, Barra has a far longer tenure at GM than the other CEO candidates: Dan Ammann, Mark Reuss and Steve Girsky -- all of whom will have new roles in the coming months.
"This isn't just a fill-the-woman-slot appointment. She is an extremely capable automotive executive," said Krebs, who credited Barra with turning out a "long string of extremely successful products" at GM. "She has led the product renaissance for GM."
Barra, 51, currently serves the motor company as senior vice president of global product development and global purchasing and supply chain. Barra, who previously ran GM's HR department, began her career with company as a General Motors co-op student at the Pontiac Motor Division after graduating with a bachelor's degree in electrical engineering.
"With an amazing portfolio of cars and trucks and the strongest financial performance in our recent history, this is an exciting time at today's GM," said Barra. "I'm honored to lead the best team in the business and to keep our momentum at full speed."
Sandra Davis, CEO of MDA Leadership Consulting, said she is "surprised and delighted" about the prospect of the auto industry's first female CEO. "It's a long slog in a very male-dominated organization to get to the top," she said.
GM also tapped former Cummins (NYSE:CMI) CEO Theodore (Tim) Solso to succeed Akerson as the company's chairman. Solso, 66, has been a member of GM's board since June 2012.
GM Shuffles Execs
Ammann, who is currently serving as chief financial officer and had been seen as a contender to become CEO, will now assume the role of president and manage the company's regional operations around the world. The global Chevrolet and Cadillac brand organizations and GM Financial are also set to report to Amman, who joined GM in 2010 and managed its initial public offering.
Ammann, 41, will stay on as CFO through at least early February but a replacement will be named soon. "While we have made good progress, we still have much work ahead of us to realize GM's full potential," he said.
To replace Barra as products chief, GM named Reuss, 50, currently president of the company's North American operations. Alan Batey, 50, senior vice president of global Chevrolet and U.S. sales and marketing, will take over for Reuss.
GM also said Girsky, 51, vice chairman of corporate strategy, business development and global product planning, will move to a senior role until leaving the company in April 2014. Girsky is expected to remain on the GM board.
Davis said she was intrigued by the number of moves announced by GM in tandem with the CEO appointment.
"I wonder how much the board is orchestrating. Ultimately she's going to have to configure her own team," said Davis.
After joining its board of directors in 2009, Akerson was named chairman and CEO in September 2010. GM noted the company has enjoyed 15 straight quarters of profitability since its November 2010 IPO.
Looking ahead, the biggest challenge facing GM under Barra's watch will be its European operations, which continues to bleed red ink amid that continent's economic malaise and other issues.
Shares of Detroit-based GM fell 0.90% to $40.52 Tuesday morning following the news, trimming their 2013 rally to 40.5%.