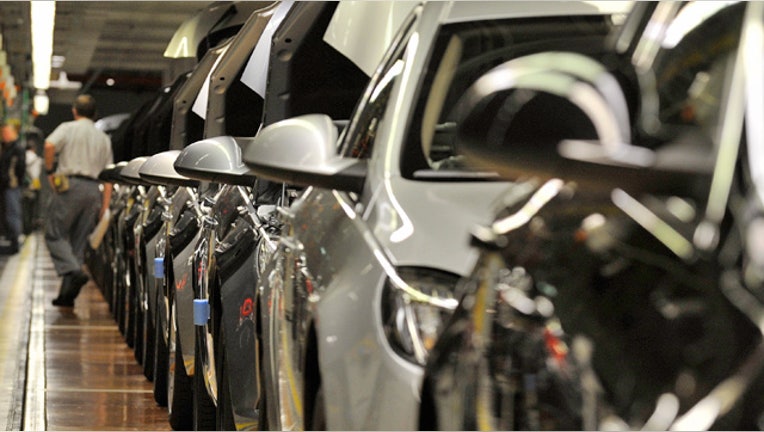 General Motors (NYSE:GM) unveiled a first-quarter profit that tumbled 88% but still beat Wall Street expectations by a wide margin, as an effort to scale back incentives partially offset costs tied to recent recalls.
The nation's largest automaker said Thursday its net income checked in at $108 million, or six cents a share, compared to $873 million, or 58 cents a share, in the year-ago period. Excluding preferred dividends, earnings fell to $213 million from $1.18 billion.
Adjusted earnings of 29 cents a share easily topped the consensus estimate of four cents. Non-GAAP results included special items of 23 cents a share, primarily related to the devaluation of Venezuela's currency.
Revenue improved 1.4% to $37.4 billion, below the $38.4 billion analysts expected.
GM is battling the fallout from several recalls announced during the first three months of the year, including an ignition-switch recall covering 2.6 million vehicles worldwide. Combined, the recalls impact seven million vehicles.
The Detroit-based company took a previously disclosed $1.3 billion charge, or 48 cents a share, in the first quarter to cover recall expenses. GM has spent about $700 million on replacement ignition switches and cylinders, plus $600 million on other recall items.
GM stressed its underlying performance remained strong, citing demand for new vehicles and higher selling prices.
"The performance of our core operations was very strong this quarter, reflecting the positive response of customers to the new vehicles we are bringing to market," Mary Barra, who took charge of GM as chief executive in January, said in a statement.
During a meeting with reporters, company officials said the average price across GM's entire lineup was up $2,000 year-over-year to $32,794, according to multiple news reports.
For Chevrolet Silverado and GMC Sierra pickup trucks, prices climbed about $5,000 to an average of $38,675. GM has said it wants to maintain price levels for its pickups, which were redesigned for 2014.
GM's operating profit in North America slipped to $557 million, while the South American segment posted a loss of $156 million versus $38 million a year ago.
Its loss in Europe, where the overall car market has lagged behind, widened to $284 million from $152 million. GM said it took $200 million in restructuring charges in Europe during the period.
GM's U.S. market share during the first quarter narrowed to 17% from 17.7%, as Ford (NYSE:F) and Chrysler Group's Ram benefit from higher truck incentives. Its global market share fell to 11.1% from 11.3%.
Shares of GM rose 21 cents, or 0.6%, to $34.60 in recent trading. The stock is down more than 15% since the start of the year.