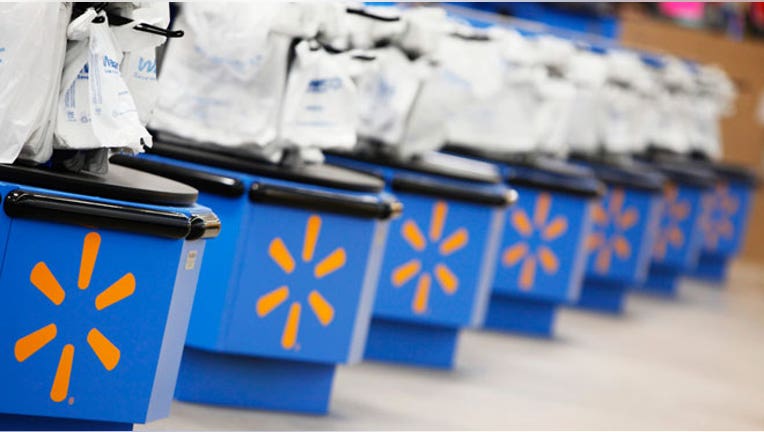 Wal-Mart Stores (NYSE:WMT) weighed in on Thursday with a 21% drop in fourth-quarter profits, prompting the world's largest retailer to issue tepid full-year guidance.
Shares of the blue-chip company dropped 2% on sluggish results and below-consensus outlook.
Wal-Mart said it earned $4.43 billion, or $1.36 a share, compared with $5.61 billion, or $1.67 a share, a year earlier. Excluding one-time items, the company said it earned $1.60 a share, topping forecasts by a penny.
Revenue ticked up 1.5% to $129.7 billion, narrowly missing the Street's view of $130.38 billion. Wal-Mart U.S. same-store sales dropped 0.4%, excluding fuel, while Sam's Club sales dipped 0.1%.
"Comp sales improvement is a key priority, and we'll focus on being even stronger item and category merchants, delivering value and improving our service levels," Wal-Mart CEO Doug McMillon said in a statement.
Looking ahead, Wal-Mart projected first-quarter EPS of $1.10 to $1.20, which is below consensus calls from analysts for $1.23.
For the full year, management expects Wal-Mart to post EPS of $5.10 to $5.45, compared with the Street's view of $5.56. Full-year net sales are expected to grow at the low end of its prior 3% to 5% range.
"Some of the factors affecting our consumers include reductions in government benefits, higher taxes and tighter credit. Further, we have higher group health care costs in the U.S.," said Charles Holley, Wal-Mart's CFO.
Still, Wal-Mart said its board of directors agreed to boost the company's quarterly dividend by 2.1%, to 48 cents per share from 47 cents. The new dividend is payable on April 1 to shareholders of record as of March 11.
Wal-Mart also announced plans to expand its capital plan by $600 million for this fiscal year by accelerating U.S. small-store growth through neighborhood market and Wal-Mart Express units.
Shares of Bentonville, Ark.-based Wal-Mart fell 2.1% to $73.28 in premarket action on Thursday, leaving them on track to extend their 2014 drop of 4.9%.