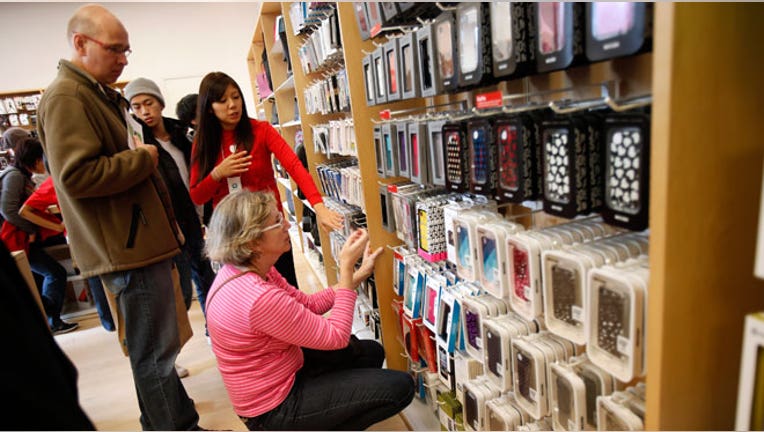 Welcome to OnSale at FOXBusiness, where we look at cool deals and insane bargains.
Facebook and iTunes are making it easier to gift music to friends and family. Brookstone has some great gifts for the gadget guru who has everything. And forget Cyber Monday! Cyber Week continues at these major retailers, delivering deals left and right.
Songs for Friends
Facebook users will be pleased to know that they can now send iTunes (NASDAQ:AAPL) songs and movies to their friends through Facebook Gifts.
Instead of sending iTunes gift cards through the mail, users can now send gifts of $10, $15, $25 or $50 with just a few clicks. The gift will appear on their friend's Timeline. To really impress the recipient, download recommendations to accompany the credit, but don't worry the recommendations aren't obligatory.
For the Gadget Guy or Gal
Looking for some great gift ideas for that one person who tends to buy all the latest and greatest devices before they're officially released? Check out Brookstone to try and get a step ahead of the early adapter. The store has a wide offering of unique gifts including a laser projection virtual keyboard that projects onto any flat surface. It may look like something out of a science fiction movie, but it's simply Bluetooth or USB powered and easily connects to your device for up to two hours of typing. It's about the size of a keychain and costs $99. Brookstone suspended pre-orders due to very popular demand, but the first shipments are expected the first round of December, so keep an eye on the site!
Brookstone is also offering a gizmo that every 007 wannabe should have. It's an HD Video pen that captures color video and audio through a CMOS camera lens. It has 4GB of flash memory and can record up to two hours of video without having to stop and recharge. Of course, it's also a pen, so you can record and take notes at the same time. Order it for $79.99 here.
Cyber Monday Continues
If you missed some great Cyber Monday sales, have no fear. Cyber Week is still going strong at Target (NYSE:TGT) Best Buy (NYSE:BBY) and Bliss to name a few.
From furniture to apparel to toys, Target is offering deals through Dec.1 at 11:59pm EST. plus free shipping when you spend $50 or more for eligible items. Free shipping on Target's Top Toys lasts through Dec. 29. Visit Target.com for more information.
Best Buy's Cyber Week Deals also last through Saturday, Dec.1 and include discounts on TVs, cameras, appliances, video games and more. It's also offering free shipping – with no minimum purchase required – on items purchased now through January 2, 2013. These deals are online only so check out BestBuy.com for more.
Skincare company Bliss has some great Cyber Week deals too, plus some great free gifts with purchase. BlissWorld.com has 20% savings for Bliss, Remede and Elemis products, plus free shipping on all orders over $50. All of the company's pre-packaged holiday gift sets are a great bargain and you get free samples for yourself or your giftee with every order – a win-win.
Know of a killer deal or insane bargain? Email the goods to OnSale@FOXBusiness.com or send us a Tweet and share the wealth.