Getting a Gift Card? Here's What to Know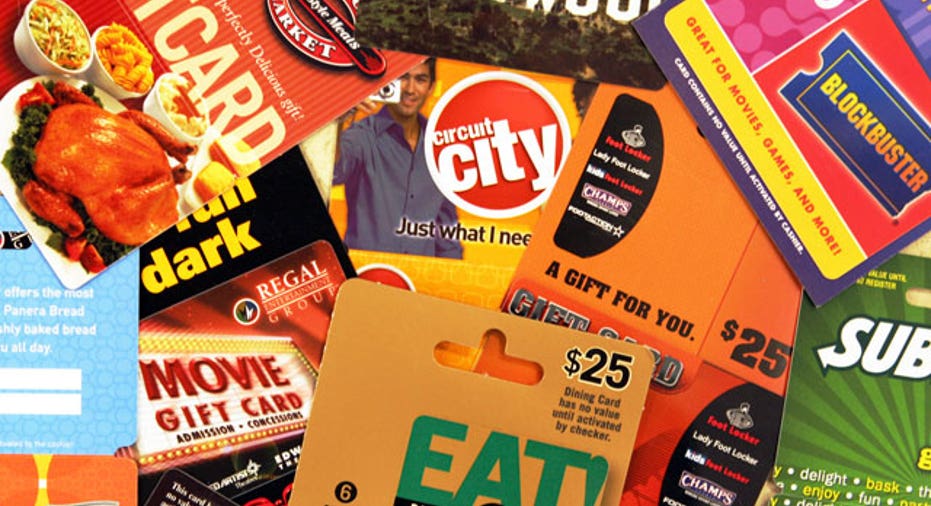 For our 2010 Gift Card Study, Bankrate.com surveyed 54 gift cards, including 46 gift cards from major retailers and restaurants, and eight network-branded gift cards. Our survey covered two types of gift cards: "closed loop," which can only be used at a single retailer or chain, and "open loop," which have a credit card brand, such as Visa or American Express. Network-branded cards are usable anywhere that accepts the card brand. For the complete listing of surveyed cards and our findings, see our chart.
2010 Gift Card Study* Results of the 2010 Gift Card Study* What to know about gift cards* 5 savvy ways to spend gift cards* 7 ways to score discounted gift cards* What the new rules mean for gift cards* Video: New rules for gift cards* Video: Finding gift cards at a discount
Consistent with previous research on gift cards, most of the retailer cards have few fees and none of them expire. Closed-loop cards tend not to expire or have fees, according to Rebekka Rea, assistant director at the Retail Gift Card Association.
The same cannot be said for network-branded cards, which tend to come with fees at and after purchase. For example, the eight open-loop cards we surveyed all charge a purchase fee at the point of sale.
Expiration and legislation
"Those are the ones that have had the expiration dates and the fees that have led to the legislation and what are really being targeted here," says J. Craig Shearman, vice president of government affairs and public relations at the National Retail Federation, in reference to open-loop cards.Six out of the eight open-loop cards we surveyed had expiration dates. American Express and Discover each had "valid-thru" dates, past which available funds remain valid, so they were not counted as having expiration dates. The cardholder merely has to request a replacement card if the valid-through date arrives and there is still unspent money on the card.
Gift card rules that took effect Aug. 22, 2010, as part of the Credit Card Accountability, Responsibility and Disclosure Act of 2009, require that gift card funds must remain valid for at least five years since the last load. Expiration information, if applicable, has to be on the card itself or communicated through other methods, as required by the ECO-Gift CARD Act, which extended the deadline for on-the-card disclosures to Jan. 31, 2011.
Inactivity fees
The CARD Act does allow gift card issuers to assess an inactivity fee after at least 12 months of inactivity. As noted previously, most retailer cards don't impose inactivity fees whatsoever, and in our survey, only one card charged a teeny $1.20 monthly fee after 24 months of nonuse.Five network-branded cards in our survey charged an inactivity or monthly fee of some sort after 12 calendar months of no activity. One card included in the inactivity fee-charging group, KeyBank MasterCard, only has an inactivity fee for cards issued prior to Aug. 19, 2010. Cards printed on or after that date do not charge fees, except for a $3.95 issuance fee.
Even if a prepaid card does charge a nominal fee for nonuse, most recipients are unlikely to experience it. According to recent research from the Network Branded Prepaid Card Association, nearly 95% of gift card holders spend the full value of their card within the first year.
Other features to watch for
The main decision to make when buying a gift card is whether to give a store gift card or a general-purpose gift card. With a store card, the recipient can redeem it at fewer places, but doesn't have to worry about expiration or surprise fees. With a general-purpose card, the recipient can redeem it at many different retailers, but is more likely to find the balance depleted by fees if the card isn't used in the first year.
In addition, if you don't live close to the person you're giving the card to, you might want to look for a card that offers free shipping or an e-card option, which means you can e-mail the gift card. Half of the store cards we surveyed offer e-cards. Check the terms and conditions, though, because some e-cards may only allow the recipient to shop online with it.
Many of the gift cards in our survey allow the user to check the balance online -- a convenient feature for a gift card recipient that doesn't spend the entire balance at once. Just nine of our 46 store cards and one out of eight network-branded cards don't permit online balance checks.If your recipient tends to lose plastic cards often, you might want to look for one that has lost or stolen card protection. A majority of the cards in our survey offer to replace the card or funds after a loss. Limitations vary, however, and a fee may apply.
Bottom line: If you're buying a gift card, watch out for fees and expiration. If you receive a gift card, make sure you spend it smartly and soon, before you misplace or forget you have it.