Getco, Virtu Vie for Control of Knight Capital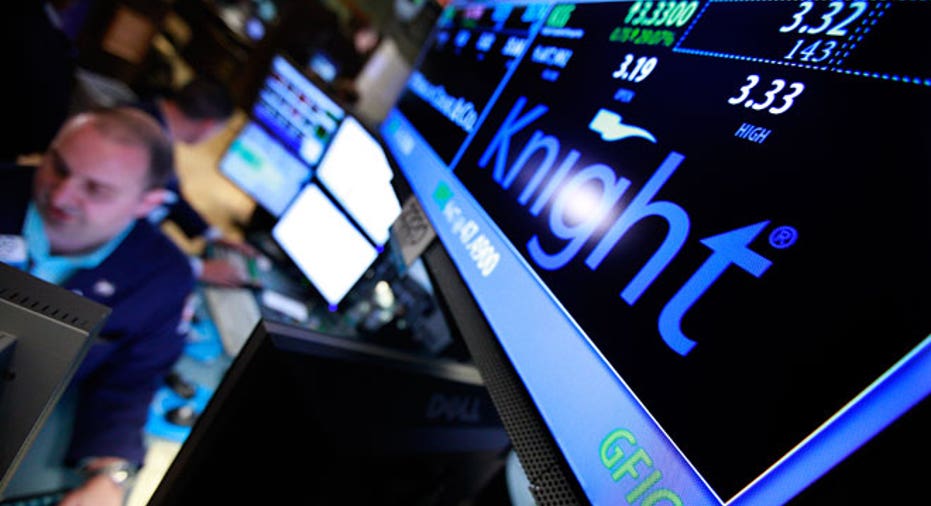 Getco made public on Wednesday a $539 million offer to take full control of Knight Capital Group (NYSE:KCG), but rival Virtu is poised to submit its own bid for the market maker.
The cash-and-stock buyout bid, which was unveiled in a Securities and Exchange Commission filing, values Knight Capital at $3.50 a share.
That represents a 41% premium over the company's close on November 23, the last day before rumors began swirling that Knight could be sold to either Getco or fellow high-speed trading firm Virtu. It marks a more modest 17.8% premium on Knight's close of $2.97 on Tuesday.
New York-based Virtu is set to present a $3.00 all-cash proposal to the Knight Capital board later on Wednesday, FOX Business's Charlie Gasparino reported. Virtu is expected to argue the all-cash deal is better than Getco's mix of cash and stock.
In a tie-up with Virtu, Knight Capital CEO Tom Joyce would serve as one of the combined company's top three executives, Gasparino reported, while Joyce would move to the non-executive chairman position in the Getco proposal.
Chicago-based Getco, which disclosed a 23.8% stake in Knight Capital, said it wishes to cement a deal by December 3.
Getco was among the firms that cobbled together a highly-dilutive rescue for Knight Capital after a software glitch over the summer nearly collapsed the company.
"I am convinced that this merger would unlock tremendous value for the shareholders of both firms while establishing a global leader in market-making and agency execution," Getco CEO Daniel Coleman said in the letter to Knight's board.
Jersey City, N.J.-based Knight Capital confirmed it received the Getco proposal, but said as a matter of policy it "does not comment on interactions with shareholders or shareholder activities."
Joyce approached a number of Wall Street players on Tuesday in an attempt to find a white knight suitor, perhaps including money management powerhouse BlackRock (NYSE:BLK), rather than sell to either Getco or Virtu, Gasparino reported.
While Joyce may not love the idea of a tie-up with Getco, Wall Street cheered the offer, driving Knight's shares up as much as 17.8% to $3.50 Wednesday morning.
The stock pared its gains in more recent action, trading up 12.49% to $3.34.
The rally still leaves Knight's shares well below their $12 value before a trading glitch this summer that caused the company to erroneously take a massive equity position. The episode nearly forced Knight into bankruptcy before the rescue, which included Getco and TD Ameritrade (NASDAQ:AMTD).
In the deal laid out by Getco, Coleman would be the combined company's CEO and the board would include four directors nominated by former Getco shareholders and three currently serving on Knight's board.
Getco also said it would "work to ensure significant retention" of Knight's employees.
Getco said it has already lined up $950 million of fully-committed financing from an unnamed "large financial institution."