Getco, Knight Suffer 2Q Loss of $104M Amid Deal Costs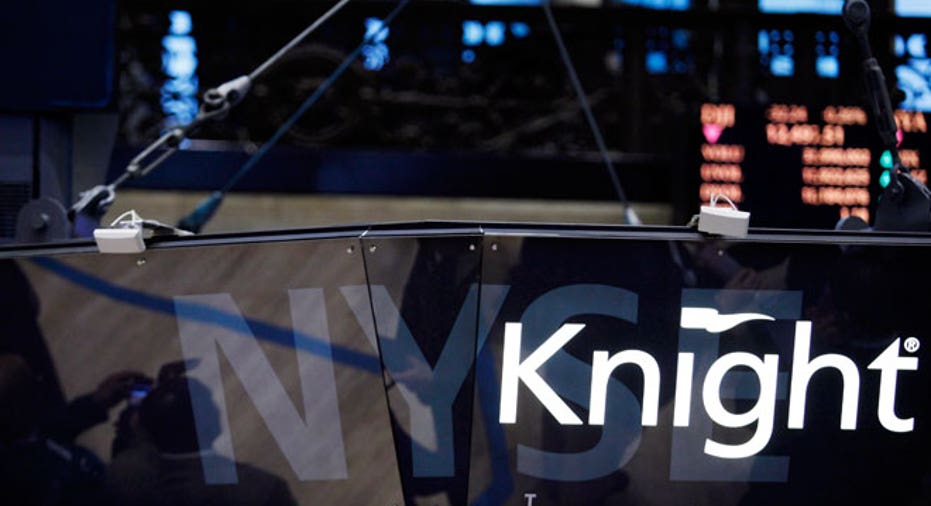 Announcing results for the first time since Knight Capital and Getco joined forces, KCG Holdings (NYSE:KCG) logged a second-quarter loss of $104 million on Wednesday amid deal costs and slumping Getco revenue.
High-speed trading firm Getco agreed to acquire Knight late last year for $1.4 billion after Jersey City, N.J.-based Knight suffered a software glitch last summer that sparked $461 million in trading losses and nearly a bankruptcy filing.
Chicago-based Getco said it lost $73 million in the second quarter, compared with a profit of $4 million in the year-earlier period. Revenue slid 16% to $118 million. Getco cited dipping equity volumes and market volatility across the U.S. and Europe.
Knight reported a loss of $31 million, or 9 cents a share, compared with a profit of $3 million, or four cents a share, a year earlier. Revenue jumped 25% to $315 million.
Both companies, which reported their results separately since the deal didn't close until July 1, were saddled by costs.
Getco reported fees of $23 million tied to the buyout and another $38 million in compensation and restructuring costs. Knight said its costs soared 38% to $337 million amid deal fees.
"The second quarter of 2013 was a period of intense activity during which the two firms together built the foundation for KCG," Daniel Coleman, CEO of KCG, said in a statement. "The teams deepened working relationships at all levels and collaborated to accomplish the steps necessary to complete the transaction."
Shares of KCG ticked 0.35% lower to $8.58 Wednesday morning, leaving them down 23% over the past four weeks.