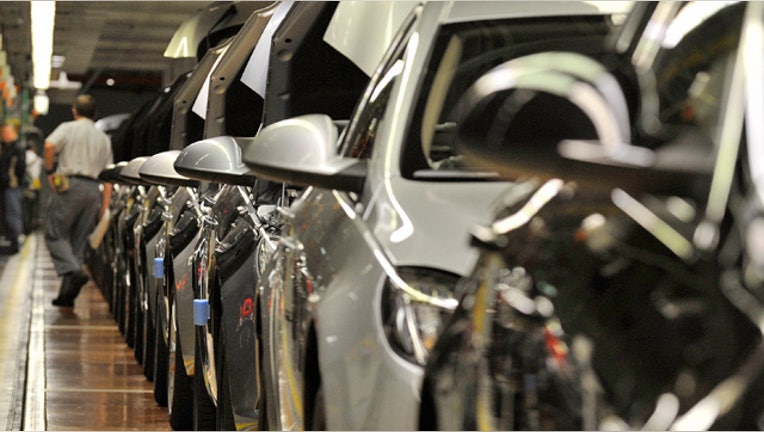 General Motors (NYSE:GM) scored a 2011 profit of $7.6 billion -- its largest annual profit in company history -- but the auto maker's fourth-quarter results were dragged down by more stumbles in Europe.
After succumbing to bankruptcy during the recession, GM emerged in November 2010 with the largest U.S. IPO in history.
The auto maker said it earned $468 million, or 28 cents a share, last quarter, compared with a profit of $510 million, or 31 cents a share, a year ago. Excluding one-time items, it earned 39 cents a share, trailing consensus calls from analysts by two cents.
Revenue increased 3% to $38 billion, missing the Street's view of $38.21 billion.
For the full year, Detroit-based GM grew its profits 62% to a new record high of $7.6 billion amid an 11% jump in sales to $150.3 billion.
"In our first full year as a public company, we grew the top and bottom lines, advanced our global market share and made strategic investments in our brands around the world," CEO Dan Akerson said in a statement. "We will build on these results as we bring more new cars, crossovers and trucks to market, and make GM a far more efficient global team."
Shares of GM rallied 4% early Thursday, building on their 2012 surge of 23%.
GM continues to be hurt by its European operations, which reported an adjusted loss of $600 million in the fourth quarter, including $200 million of restructuring costs. That matched results from the year before. For the full year, GM Europe lost $700 million on an adjusted basis, up from a loss of $1.3 billion in 2010.
On the other hand, GM's North American division nearly doubled its profits, posting adjusted earnings of $1.5 billion last quarter, compared with $800 million the year before. Full-year adjusted earnings totaled $7.2 billion last year, up from $5.7 billion in 2010.
GM's international segment grew profits to $400 million in the fourth quarter, up from $300 million the year before. GM South America suffered a loss of $200 million, reversing a year earlier profit.
"Behind the scenes, we are working hard to eliminate complexity and cost throughout the organization to increase margins in all of our regions, and return Europe and South America to profitability," said Dan Ammann, GM's chief financial officer. "Overall, we have made good progress and we have more work to do."
Looking ahead, GM said it expects to boost its top-line revenue year-over-year "in an expanding global automotive industry." The auto maker is also forecasting continued pricing improvement with "cost inflation well contained."