Gardener's Guide to Home Insurance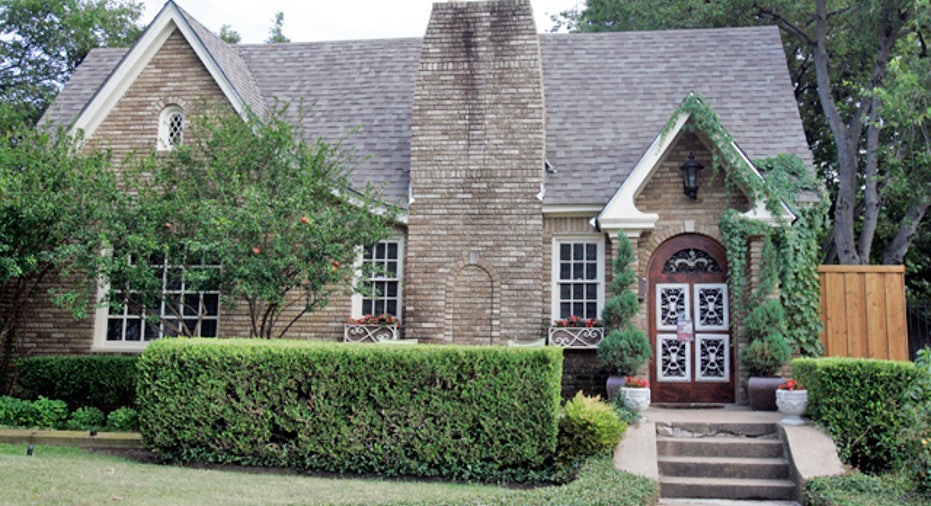 Spring is prime time for homeowners with a green thumb, the time of year when horticultural hobbyists stampede to their local garden centers and fill carts with flowers, shrubs, trees and mulch. According to the National Gardening Association, U.S. households spent a total of $29.1 billion on their lawns and gardens in 2011. While the average household spent $351, you can be sure there are plenty of enthusiastic landscapers who spent thousands on lawn equipment, fertilizer and plants while some of their neighbors racked up bills for fountains, waterfalls, stone walls and furniture to create outdoor living rooms.
While all that spending is great for the economy, homeowners may want to put down their shovels and pull off their gardening gloves to check their homeowners insurance policies. Then they can see if their trees, water features and lawn mowers are covered in case they're damaged by an ice storm, stolen or run over by a car. The short answer: it depends.
Are your trees and shrubs protected by your home insurance?
If your favorite tree has to be replaced, your home insurance may cover that expense depending on how it was damaged.
"Most home insurance policies provide only limited coverage for gardens, including damage covered by fire, lightning, vandalism, theft or a vehicle," says John Foster, vice president of personal lines for Penn National Insurance in Harrisburg, Pa. "There's generally no coverage for damage to the garden plants caused by the weather, such as a wind storm, hail or a flood, or by disease, decay, insects and animals."
David Suarez, director of marketing for Mercury Insurance Group in Los Angeles, Calif., says coverage for trees, plants and shrubs is typically limited to a percentage of your home insurance, usually 5 to 10% of your home's insured value.
"You'll also have a per-item limit which varies according to the policy and the carrier, typically around $500," says Foster. "Some companies may offer special enhancement endorsements for an additional premium that provides a limited amount of coverage such as $250 to $500 for damage to your trees, plants and shrubs caused by a windstorm, hail or the weight of ice or snow."
Are your fountains, stone walls and paths and your garden shed covered?
Decorative stone walls and waterfalls can be some of the most expensive items in your garden.
Fountains, water features, gazebos, sheds, paths and walls are generally covered under your "other structures" section of your homeowners insurance, says Suarez.
"They have to be attached to your property permanently, not something you could take with you when you move," says Suarez. "If you have a portable item it would be covered under the contents of your house, even if it's outside. Most insurance companies don't limit your coverage by item for outdoor structures, but there's a general overall limitation on claims for outdoor structures."
Foster says the typical limitation is 10% of the home's insured value, but it can be increased for an additional premium.
Compare mortgage rates in your area.
Some important exclusions apply to other structures. Those exclusions include damage caused by settling and bulging and the resulting cracking; freezing, thawing, the pressure or weight of water or ice; and damage caused by animals, says Foster. "Otherwise, the coverage is similar to the comprehensive coverage on your home and includes damage caused by fire, weather and vandalism."
Are my landscaping tools and outdoor furniture covered?
While some gardeners get by with a small shovel and a plastic lounge chair, other homeowners have costly ride-on mowers and living room-grade outdoor furniture.
Outdoor furniture would be considered the same as indoor furniture and will be covered under your personal property coverage, says Suarez. "Typically your personal property coverage is 50 to 75% of the insured home value in addition to the coverage for your home. For example, if your home is valued at $500,000 and is destroyed in a fire, then you would get $500,000 for the home and another $250,000 or more to replace your contents," he says.
Landscaping and gardening tools are also considered personal property, says Foster.
"Typical homeowner insurance policies generally provide coverage for losses caused only by select named perils, including fire, wind, hail, explosions, cars, vandalism and theft," he says. "Some policies can provide more comprehensive coverage for personal property."
If you own a ride-on mower, your coverage may be limited according to the mower's horsepower, says Suarez, so make sure you check your policy's coverage.
What happens if a landscaper gets hurt while servicing my property?
With so many tools underfoot and the potential for slipping on freshly watered grass, you should make sure you are covered if a landscaper gets hurt on your grounds.
"Your homeowners insurance policy provides liability and medical coverage for a landscaper who's injured while working on your property up to the limit of the coverage you purchased," says Foster. "The homeowner would need to be negligent and legally liable for the personal liability coverage to apply."
Suarez says liability coverage typically ranges from $100,000 to $500,000.
"You should check that anyone working for you has worker's compensation insurance coverage because that's what should pay for any injuries first," says Suarez. "If the worker doesn't have it, then it's likely that he'll go after you for payment. Your homeowner's insurance company will defend you in that case."
The original article can be found at Insurance.com:Gardener's guide to home insurance