GameStop Sales Pop 19% on GTA, Outlook Spooks Investors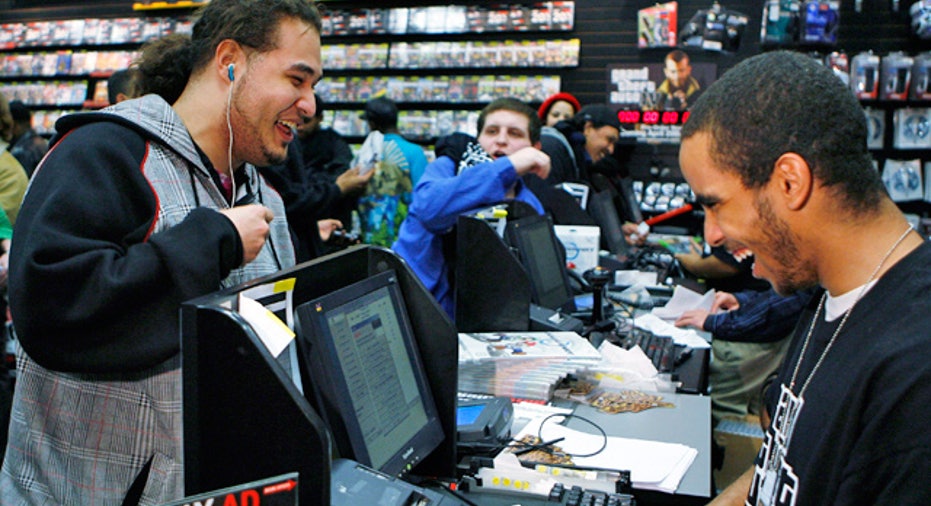 GameStop (NYSE:GME) reported third-quarter profits on Thursday that narrowly topped expectations thanks to strong sales of Grant Theft Auto V, but the video-game retailer's outlook concerned investors.
Shares of GameStop retreated almost 5% on the worse-than-anticipated guidance for the crucial holiday quarter, which is highlighted by the launch of new gaming consoles from Sony (NYSE:SNE) and Microsoft (NASDAQ:MSFT).
The company said it earned $68.6 million, or 58 cents a share, last quarter, compared with a loss of $624.3 million, or $5.08 a share, a year earlier. The 2012 quarter included asset writedown and goodwill charges.
Excluding one-time items, it earned 38 cents a share, topping forecasts from analysts by a penny.
Revenue jumped 19% to $2.11 billion, topping the Street's view of $1.98 billion. Same-store sales soared 21%, besting internal targets for an 11% to 15% increase.
GameStop, which is the world's largest retailer of video-game products, said new software sales surged 43.1% thanks in part to strong demand for Grand Theft Auto V. New hardware sales climbed 15.3%, while pre-owned sales dipped 2%.
"Our strong third quarter sales results give us great momentum as we enter the new console cycle," GameStop CEO Paul Raines said in a statement.
Looking ahead to the fourth quarter, GameStop projected same-store sales to rise somewhere between 2% and 9%, translating to EPS of $1.97 to $2.14. But even the high end of the new EPS range would trail the Street's view of $2.15.
For the full year, management raised its EPS forecast to $3.08 to $3.25, compared with estimates on Wall Street for $3.23. Previously, the company projected full-year EPS of $3.00 to $3.20.
"Consumer appetite for the new consoles is very strong judging by last week`s successful PS4 launch and the excitement for tonight`s Xbox One launch event. Globally, we are executing our unique playbook to maximize our position of strength," Raines said.
GameStop said its board of directors has approved a new $500 million share buyback program, replacing the existing one. The company said it bought back 1.84 million shares, or $94.4 million, during the third quarter.
Shares of Grapevine, Texas.-based GameStop slumped 5.26% to $49.68 Thursday morning, trimming its 2013 surge to 98%.