Game-Truck Owners Not Playing Around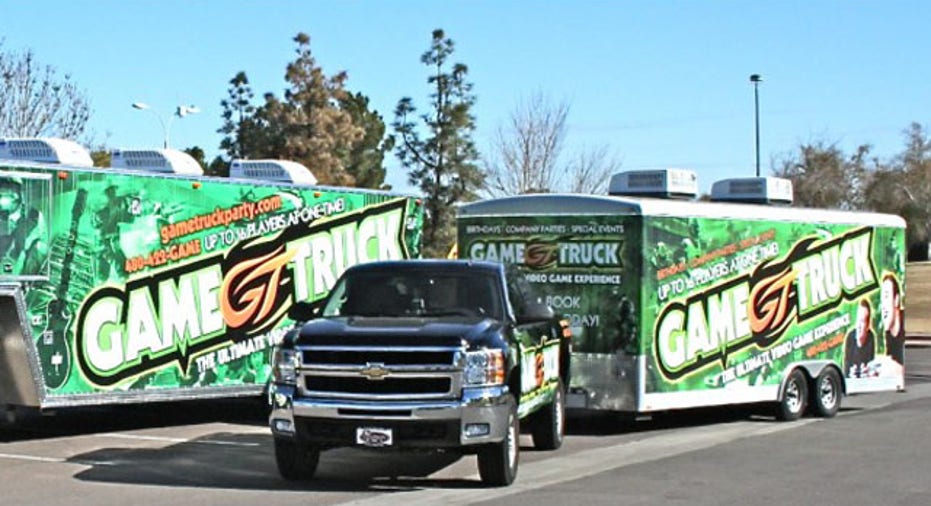 From kobe burgers to doggy baths, entrepreneurs have figured out a way to make just about any business mobile. And now, one entrepreneur is using the concept of fun on wheels to help others become business owners. In today's American Franchise Spotlight, we go behind the scenes at GameTruck, a mobile video game theater.
GameTruck sells itself as offering "the ultimate video game party," and is exactly what the name implies; a truck filled with games, specifically video games that play on consoles, such as the XBOX360, Nintendo Wii and PlayStation. The trucks are equipped with four to eight flat screen TVs and seating that accommodates up to 16 people.
Scott Novis launched the company in 2006, after years of working for gaming companies such as Rainbow Studios and Disney.
"People who had real jobs thought video games were frivolous," said Novis. GameTruck's popularity may prove otherwise. Since franchise operations began in 2008 the company has approved 60 franchisees in 23 states and Nigeria. This year GameTruck hopes to add 30 new franchisees.
"Illinois only has two trucks," said Novis, "There is tremendous opportunity to expand in the U.S. From the Midwest to the northeast, those places are going to be huge."
GameTruck offers three vehicle models; a gooseneck tow-behind trailer, a V-nose trailer or an RV unit. Franchisees purchase the trailers from the company and buy their own tow-vehicle. The initial investment can range from $135,000 to $185,000, depending on the trailer model. Franchisees pay a $9,500 franchising fee and monthly royalties of 7% of gross revenue. Flexibility in operations is a distinct selling point for GameTruck franchisees. While some franchisees run the business as a full-time job, others just book the truck on weekends. The trucks can be stored in RV lots or the franchisee's own property.
Ken Levey, the company's newest franchisee, signed the ten-year franchising agreement and drove his truck to Warren, New Jersey from Nappanee, Indiana in December of last year. He sells paper and plastic products in addition to operating his GameTruck. Levey has hosted 30 events since December and is hoping to book 25 events a month.
"The most important thing is the moms," said Levey, "You have to make sure the moms are happy because every party is an advertisement for 20 more parties."
While parties keep GameTrucks full on the weekends, the company is looking for ways to fill them on weekdays. "This is a capital equipment utilization business," said CEO Novis, "One of the things we try to do is push ROI as high as we can."
Novis hopes to generate more business for his franchisees by using the trucks for educational programs, something he started locally in Phoenix two years ago. He recently partnered with The Learning Care Group, a child-care provider with over a thousand schools nationwide.
This month GameTruck will honor its Chicago franchisee with an award for setting the most number of events on one "rig" in one month: 67. "Our most successful franchisees do business-to-business sales," said Novis. For those who shy away from picking up the phone, GameTruck is in the early stages of launching a telesales department.
While sales generate revenue, GameTruck franchisees must also master logistics, scheduling and trailer operations.
"There are a million things you just don't think about until something goes wrong," said Joel Carlson, GameTruck's first franchisee, "Like that we have to tighten the lug nuts on trailers every week."
Carlson now operates four trailers. "Every time we added a trailer, the complexity of our business went up," he said. After developing his business' employee training program, customer service process and confirmation and cancellation policies, Carlson realized, "There is a lot more that goes into this business than running around birthday parties."
In the company's history one franchisee has failed. Novis, who warns franchisees that they are not buying a toy, attributed the failure to a bad fit between the person who bought the truck and the person who operated it.
"If you own this thing, you need to run it," said Novis.
As the company prepares to expand to Canada and to the other 27 states it is not in, Novis is looking for determined franchisees because "anywhere you can put a professional baseball stadium, there should be a bunch of GameTrucks."