Fun Facts About Sports Illustrated Swimsuit Issue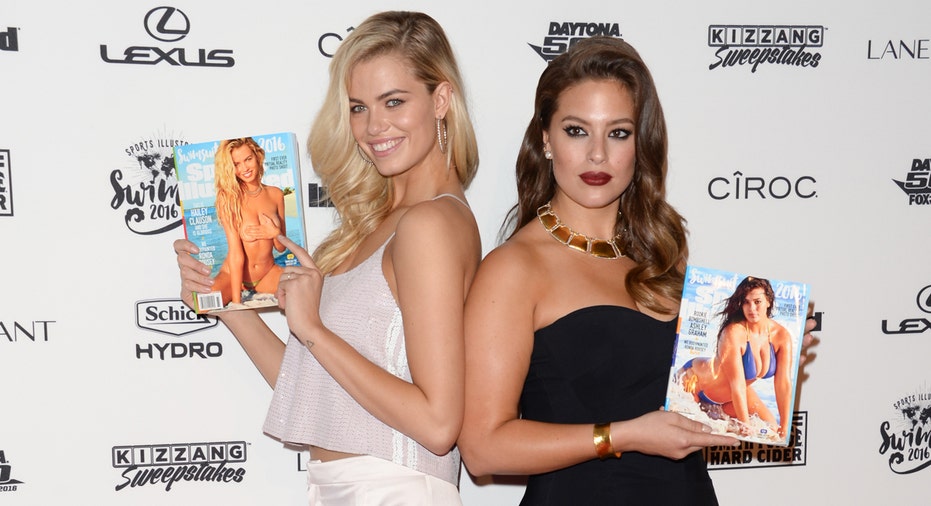 Now that the Super Bowl is over, what does a sports fan have to look forward to in February? There is the NBA, hockey, college basketball, and one other semi-sports related staple that warms up the late winter — the Sports Illustrated swimsuit edition.
The SI swimsuit edition turned fifty in 2014 to great fanfare and over $1 billion in collective revenue over the years. A significant number of swimsuit edition cover models have gone on to greater fame and fortune, including Christie Brinkley, Kathy Ireland, Heidi Klum, Tyra Banks, and Kate Upton. Even Beyoncé graced the SI cover once, in 2007. Her issue represented the first cover that did not feature a model or athlete.
Here are a few other fun facts to consider as the new issue hits the newsstands:
Separate Covers – For the first time, SI is issuing three separate covers with three different models. The different covers also acknowledge a broadening of the model profile (see "Reaching Out" below). Hailey Clauson represents the traditional model, Mixed Martial Arts fighter and budding celebrity Ronda Rousey represents the athletic build, and plus-size model Ashley Graham represents the curvier, full-figured woman.
Revenue – The swimsuit issue has become such a phenomenon that it now accounts for over 10% of SI's income. Merchandising began with calendars in 1983 and has now expanded to social media, TV specials and other video platforms, bringing in new ad revenue sources. Promotional events include the two-day "Swim City" in New York City, followed by a similar two-day event ("Swim Beach") in Miami Beach. The revenue from the swimsuit issue alone was estimated to be $35 million in 2005, and it is likely well above that now.
Multiple Covers – Elle Macpherson holds the current title for gracing the most SI covers, with five (although she shared covers in 1994 and 2006). Four models are tied for second place with three covers: Cheryl Tiegs, Christie Brinkley, Kathy Ireland, and Daniela Peštová.
Reaching Out – Once the domain of the young and impossibly thin, the SI swimsuit edition has been gradually acknowledging the beauty of different ages and more common body sizes. Last year's edition included plus-size models Robyn Lawley and Ashley Graham in ad campaigns. This year, Graham claims one of the cover spots while also appearing in several ads. Plus-size African-American model Precious Lee joins Graham in a Lane Bryant Ad, and a separate campaign for Swimsuits for All features Graham along with the 56-year old model Nicola Griffin in stunning gold bikinis.
Swimsuit Indicator – Some years ago, the Bespoke Investment Group pointed out a correlation between the nationality of the swimsuit issue cover model and the annual returns of the S&P 500. From 1978 to 2008, years with American cover models averaged almost 14% while those with foreign models averaged just over 7%.
The correlation had been holding relatively well, but 2015 model Hannah Davis was born in the U.S. Virgin Islands and the S&P 500 finished essentially flat for the year. Perhaps the string is broken — or maybe we have to exclude territories. All three of this year's models are American, so let's hope the swimsuit issue can bring the S&P back into positive territory for the year.
Post-Cover Success – A few of the cover models have gone on to great financial success as well as fame, and Kathy Ireland is a prime example. Not only has she amassed great wealth (estimated at $420 million in 2015) through licensing of multiple products, she also appeared on the cover of the bestselling issue to date in 1989. Ireland truly has the Midas touch with finances.
As usual, there will be a few poses that push the boundaries, but probably nothing as daring as Hannah Davis lowering her swimsuit bottom to dangerous levels on last year's cover. Ronda Rousey will appear wearing only body paint, and an ad for Edge Shave Gel features former 2014 cover model Nina Agdal wearing only a shaving cream "bikini."
Investors, if anyone asks, you bought the issue just to see who was on the cover under the guise of stock market research. Feel free to come up with a better excuse if you can.
This article was provided by our partners at moneytips.com.
More from MoneyTips.com:Highest-Paid ModelsFrom Model to MogulBiggest Athlete Divorces