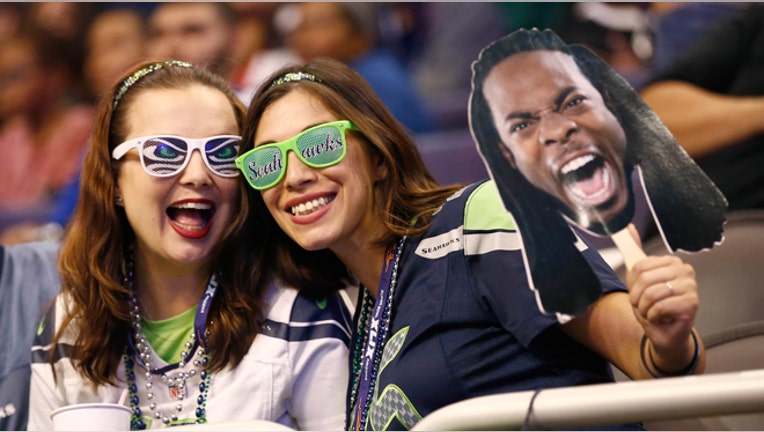 Did you suffer through another rough year in your office football pool? Despite your in-depth knowledge and pigskin passion, were you beaten by a coworker who chooses teams based on the color of the uniforms or the attractiveness of the quarterback?
Don't give up yet. You have another chance to redeem yourself by betting in the Super Bowl. According to Superbowlbets.com, you and an estimated 200 million people worldwide will place some form of bet on the Super Bowl, wagering an estimated $10 billion.
The majority will be placed outside the Las Vegas books, ranging from bets with illegal bookmakers to simple office pools. Las Vegas is doing quite well in spite of that fact, with Super Bowl XLVIII (48 for you non-Romans) taking in over $119 million in bets and posting a record-breaking $19.7 million in profit.
Vegas books have averaged over $6.1 million in winnings annually since 1991, posting wins in every year except for the New York Giants' stunning defeat of the previously unbeaten New England Patriots in 2008 (losses of almost $2.6 million) and the San Francisco 49ers' win over the San Diego Chargers in 1995 (almost $400,000 in losses).
You can place a bet on the Super Bowl before the football season starts. Oddsmakers set preseason odds on a team reaching the Super Bowl, and it is not uncommon to take a preseason flyer on your favorite team for $100 or so in hopes of a big payoff.
This year's preseason favorite was the Denver Broncos at 13-2 odds (meaning winning your $100 bet returns around $650 plus the return of your $100 wager). Sorry. People betting on Jacksonville to stun the world and win the Super Bowl could have won $25,000 on a $100 bet… but the Jags only won 3 games. But If you didn't pick Seattle or New England, there are plenty of other types of Super Bowl bets from which to choose.
Pools – Most Super Bowl betting is in the form of pools, based on the last digit of each team's score. A grid is set up (typically a 10 x 10 set of squares) and squares are sold to create the pot money.
Numbers 0-9 are randomly drawn and assigned to rows and columns to represent the score of the respective teams. If the score for both teams at the end of any quarter matches one of your squares, you win a portion of the pot.
Pots can be split many ways, but a typical split is 25% of the pot for winning an individual quarter. Some assign the final score a higher share of the pot. Check the overtime rules in any pool you enter – it may be considered an extension of the 4th quarter or change the split of the overall pot.
Point Spread – Bookmakers set a favorite and a margin of victory known as a point spread or a line. You bet on whether a favorite will "cover" (win by more than the point spread) or whether the underdog will either lose by less than the point spread or win outright.
Realize that point spreads do not reflect what Vegas expects the outcome to be. Vegas sets the line as an estimate and adjusts it, trying to get bettors to place approximately the same dollar amount of bets on each side. As of this writing, New England is favored by a single point.
Winners – You can bet straight up on who will win the game, without point spreads.
Over/Under – Vegas sets an expected total number of points scored by both teams (often with a half-point, or hook, to avoid ties). You bet on whether the total score will be over or under that amount. Historically this is the most evenly distributed Super Bowl bet, with the over winning 25 of the 48 Super Bowls. The current Over/Under is around 48 points.
Prop Bets – These are bets related less to football than to the spectacle of the Super Bowl itself. These bets range from who scores first or wins the MVP award, to the over/under on the length of the National Anthem or how many times the announcers will say a certain phrase, such as "Deflated Balls". You can even bet on the color of halftime performer Katy Perry's hair!
When organizing these sorts of bets, do not forget to establish rules and tiebreakers clearly. You do not want beer bottles and dip flying across the living room as a result of betting disputes (or any other reason, for that matter).
If you want to join the 200 million expected Super Bowl bettors this year, try a pool where winnings are purely related to luck. Otherwise, take your time to analyze the matchups, trends, historical factors, health of the participants, and big-game experience – or throw it out and pick the team with the best uniform colors, or best-looking quarterback.
More From MoneyTips.com
Super Bowl Fun FactsThe $300,000 Football Ticket Video$ave on Football Tickets