Frugal Gift-Wrapping Secrets from Holiday Pros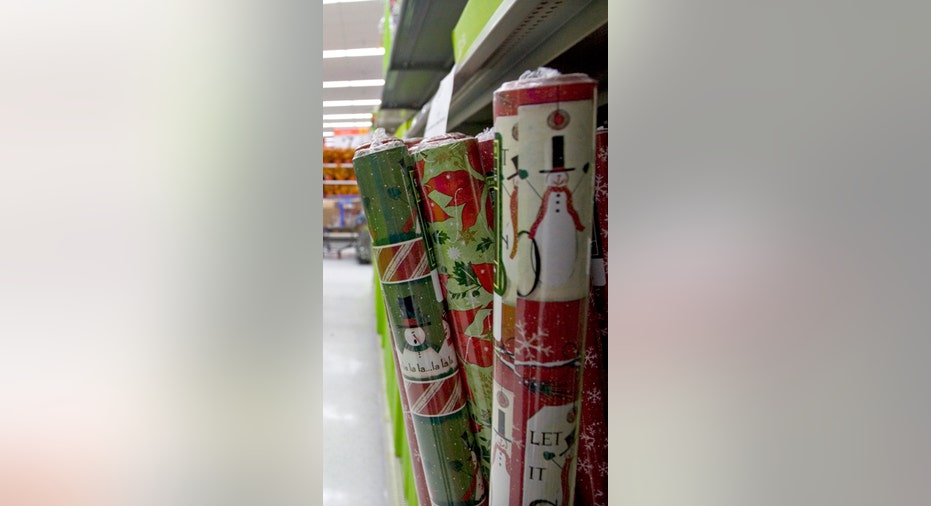 Ever notice that it seems to cost nearly as much to wrap a holiday gift as it does to buy it?
A roll of nice wrapping -- not the cheap kind that rips with every fold -- can easily go for $5 or more for 9 feet of paper and only covers about six shirt boxes, based on online calculations. Add a nice metallic bow and a gift tag, and the bill can soon top $10. And let's not forget the paper will be torn into bits and thrown away, sometimes along with the bow.
Of course, you could go with the free gift wrap offered by the store. You know -- the kind that screams, "I didn't wrap this myself! The nice gal at Macy's did," and looks like every third gift under the Christmas tree.
But if you don't want to settle for store-wrapped gifts, there are other inexpensive and stylish ways to dress up your packages this holiday season -- and all year-round.
Wrap it Up
Start your hunt for gift wrap in your own home and repurpose what you already have, says Danielle Claro, editor-at-large at Real Simple magazine.
Claro and her children have been known to tear out magazine and catalog pages that are thematically similar and tape or paste them together for a collage gift wrap. That works especially well during the holidays when mailboxes are bombarded with Christmas catalogs.
"It's free and green," Claro says.
Don't forget the tried-and-true newspaper for wrapping, Claro says. But take it up a design notch and contrast the gray newspaper with a big, wide red ribbon. Or, pick up a foreign-language newspaper with interesting characters, such as Chinese or Arabic, for a "more artful feel," Claro says.
Erin Souder, founder of decorating blog HouseofEarnest.com, cuts open colorful shopping bags for wrapping. She has also washed out potato chip bags and wrapped with the silver lining for a festive look.
If you can spare some cash, consider stocking up on white craft or butcher paper, or brown shipping or parchment paper. These all make excellent bases for wrapping and can be bought on the cheap.
Cover the paper with your or your children's drawings to make a gift personal, says Heather Mann, founder of the blog DollarStoreCrafts.com. Try paint and ink as well. Take car toys and dip the wheels in paint then run them over the paper, use potato halves as stamps, or make handprints and footprints, Mann says.
For a more sophisticated finish, use a sponge to dab on metallic silver or gold paint. Or cut out white paper snowflakes -- an old kindergarten project -- sprinkle them with glitter and paste them to the brown paper. If you'd rather keep the paper plain, focus instead on toppers and tags.
"You can be really playful with the package embellishments to make one-of-a-kind wraps," says Kelly Ryan Kegans, assistant deputy editor of home designs for Better Homes and Gardens magazine.
Top it Off
Kegans suggests taking colorful paper cupcake liners and turning them into a pouf or flower to stand in for a bow. (Directions on how to do this can be found on the Internet.) To mimic candy canes, snip red-and-white diner straws and affix them to the top of the gift, she says. Or for a personalized monogram, use a stencil and patterned scrapbooking paper or leftover gift wrap.
"We love shopping the dollar aisle and party and office supply stores for inexpensive, nonholiday items that can be made into package toppers," she says.
Nature is also full of pretty and free gift trimmings, says Souder. Leaves, tree twigs and pine cones are all great toppers. Sprinkle white glitter on them for a snowy look. Or keep clippings from your Christmas tree or snip your poinsettia for additional accents.
When tying your packages tight, skip spending $3 to $5 on three yards of ribbon. Instead, stock up on cheaper alternatives like yarn or baker's twine, Souder says. Wrap them around gifts four or five times for emphasis. Then tie in a bow at the top or use extra yarn to make pompoms. Mann also steals some plastic wrap from the kitchen and ties it tightly around a package and then into a big bow.
Signing Off
If you want to add more pizazz to your wrapping and topper, add a unique gift tag for an extra punch of holiday spirit.
Mann likes to spray old cereal boxes with glitter paint -- she recommends Krylon Glitter Blast -- and cuts the cardboard into shapes, such as stars or ornaments, to make gift tags. Use cookie cutters to trace the outline of shapes.
"Glitter spray paint is your friend," Mann says. "It gives good coverage, and the glitter doesn't flake off. So you won't find glitter in your house a year later."
Another one of Mann's tricks is to shrink clear plastic from salad bar or deli containers into shapes to use as gift tags. Look for No. 6 plastic containers, cut into shapes that are three times bigger than what you want, decorate with permanent markers and bake on foil for five minutes at 325 F. The tags can double as Christmas ornaments the next year.
Claro likes to get her kids involved with tagging. One of their best ideas is to make a gift tag out of letters clipped from magazines. Not only is it fun and personal, but it's educational, too, because younger children can learn their ABCs and spelling.
"It's really cool when you have all those ransom-note gift tags next to each other under the tree," Claro says. "It's playful."
The key to thrifty wrapping is choosing one or two design elements and staying consistent throughout, says Souder. Maybe this year is focused on a metallic theme or a kitschy red-and-white look or even a modern feel.
"If you have a theme," Souder says, "it makes frugal appear purposeful rather than cheap."
What creative ways do you use to save on gift-wrapping expenses? Email us!