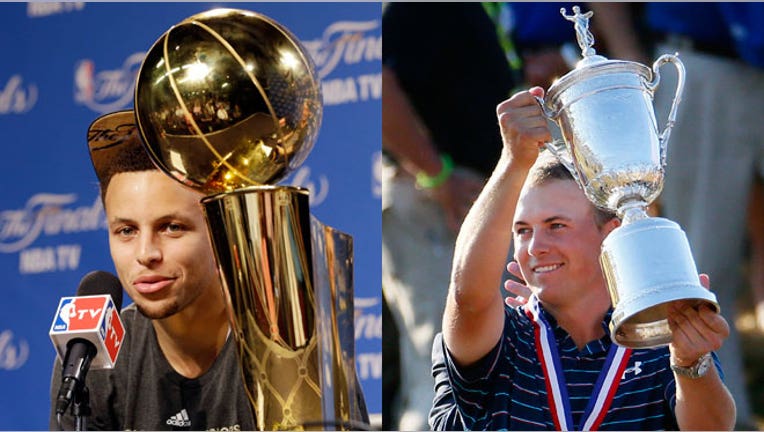 Under Armour (NYSE:UA) is on a hot streak. Just days after Stephen Curry's Golden State Warriors won the NBA Finals, Jordan Spieth locked up his second Major championship of the year.
The sportswear heavyweight signed Spieth to a four-year contract in January 2013, before the Texas native played his first professional tournament. Early this year, Spieth received a new 10-year deal to exclusively wear Under Armour gear through 2025.
The timing was perfect for Under Armour as Spieth proceeded to become the youngest golfer in history to win back-to-back Major tournaments.
Spieth emerged Sunday as the youngest U.S. Open champion in history, and the 21-year-old phenom is now halfway to a Grand Slam. Spieth, who entered the U.S. Open as the No. 2 golfer in the world, also won the Masters in April with a record-setting performance.
Meanwhile, Curry was named the NBA's Most Valuable Player for the 2014-15 season and led the Warriors to their first title, defeating LeBron James and the Cleveland Cavaliers.
Curry was easily the biggest NBA star to join Under Armour at the time of his original deal in 2013. As for Spieth, Under Armour took a bet on the up-and-coming golfer shortly after he turned pro.
"It took a tremendous combination of skill and luck to get these two," said Sam Poser, an analyst at Sterne Agee CRT.
Spieth and Curry are two of Under Armour's most high-profile athletes, a group that also includes New England Patriots quarterback Tom Brady, Washington Nationals outfielder Bryce Harper, skier Lindsey Vonn and swimmer Michael Phelps.
Sales Gains
In the first quarter, Under Armour reported a 41% increase in footwear sales amid "tremendous demand" for the Curry One signature basketball shoe, according to CEO Kevin Plank.
Under Armour's golf business, while small, has capitalized on its relationship with Spieth. A limited edition golf shoe, Drive One, quickly sold out for $179.99 a pair before the Masters even started. Spieth wore Drive Ones at the Masters and U.S. Open.
His outfit from the final round of the U.S. Open was available on Under Armour's website Monday. Fans can purchase the same style hat, shirt and pants worn by Spieth on the course.
"I would bet any kid who is a golfer just went out to buy that striped shirt he was wearing," Poser said. Under Armour listed the polo shirt for $69.99.
Brand Power
The benefits from Under Armour's endorsement deals with Spieth and Curry extend beyond golf and basketball sales. By picking championship athletes, Under Armour is strengthening its overall brand.
"This is branding at its best," Poser added. "People want to be a part of winners."
Under Armour has surpassed Adidas as the second-largest sports apparel brand in America, trailing only Nike (NYSE:NKE). Last year, the Baltimore-based company posted annual revenue of at least $3 billion for the first time.
Spieth earned $3.6 million in winnings at the Masters and U.S. Open, plus bonuses from his sponsors. AT&T (NYSE:T), Titleist and Rolex have endorsement deals with Spieth.
Generating Buzz
Spieth's wire-to-wire victory at the Masters generated $15.2 million in equivalent advertising time for Under Armour, according to ESPN. His U.S. Open championship likely provided a similar boost. Fox Sports said ratings through Saturday were outpacing last year's coverage on NBC, thanks largely to primetime billing on the East Coast.
The 2015 U.S. Open was hosted by Chambers Bay Golf Course near Tacoma, Wash. 21st Century Fox (NYSE:FOXA), the parent company of Fox Sports and Fox Business, acquired the TV rights to the tournament starting this year.
The U.S. Open included plenty of drama at the end. Dustin Johnson, who is sponsored by Adidas-owned TaylorMade, missed the potential winning and tying putts on the 18th hole, finishing at 4-under par alongside South African Louis Oosthuizen. Spieth won the tournament with a 5-under par.