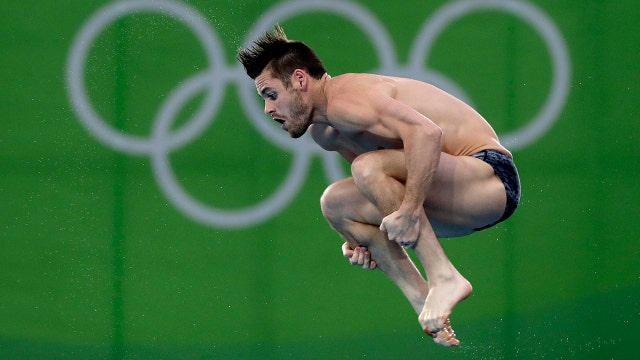 Continue Reading Below
Advertisement
"At the time, I was thinking only about medals, medals, medals. Or funding, funding, funding for USA Diving and myself," he writes in his new book, "Greater Than Gold." "As a result, I didn't execute the dives the way I needed to in order to accomplish that goal. Focusing on the results is a recipe for failure."
Boudia turned to cigarettes, drugs and alcohol to cope but changed his attitude once he hit a self-professed rock bottom.
"I just realized those things were not helpful to my training, they were not helpful to my outside life," he says.
"We all have struggles whether it's smoking or drinking, whatever it is in your life… it's a daily battle whether you're actually going to actively go to war against those things or you're just going to let them consume you."
With guidance from his coach, family and faith, Boudia went on to win gold in the men's individual 10-meter platform competition at the 2012 Olympics in London – making him the first American male diver to do so since Greg Louganis at the 1988 games.
"My heart was full," he writes in his book. "Not because I had won a gold medal...because I realized how different my heart was. I had given up my laser focus on winning a gold medal in exchange for a more fulfilling and lasting focus on God, his Word and his people. I came to the London Olympics with a goal of honoring God in my pursuit of the gold, more than just the pursuit of a medal itself."
Now a husband and father, Boudia says his family motivates him to try and do his best. He also credits mental training and a healthy lifestyle for his success.
"I think mental training is absolutely crucial if you want to get from that beginning level, novice, to an elite athlete, Olympian; And so for me, really doing a lot of mental training, visualization, learning how to control my breath and heartrate."
In addition to promoting "Greater Than Gold," Boudia's post-Rio career includes several brand partnerships such as ZICO Coconut Water, whose motto "Inside is Everything," is a natural fit for his lifestyle, he says.
And while he's unsure if he will compete at the 2020 Olympics in Tokyo, Boudia wants to get U.S. diving "back on the map." He also hopes people learn from his experiences.
"The Olympics is not all this glitz and glamour," he says. "There's hard work and there's a lot of things that go into it that a lot of people don't know. I think vulnerability and authenticity are two key things that people connect with and so I wanted to use my struggles in life to show people that it's okay but it's also a moment where you can kind of move past the struggles to try to better your situation."