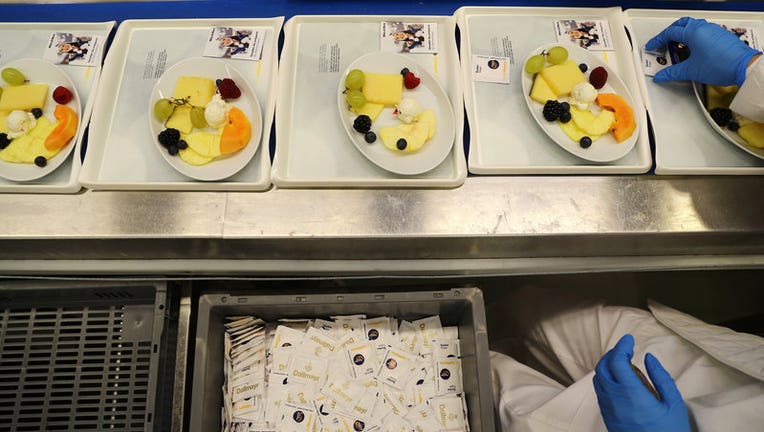 NEU-ISENBURG, Germany (Reuters) - Lufthansa's airline catering business wants to become more like a mainstream retailer in a shift that includes an expansion into new areas such as trains and convenience stores, its chief executive said.
The airline's catering division, known as LSG Group, makes food for other carriers as well as Lufthansa. It has been active in airline catering for more than 70 years and last year made 591 million meals, or roughly one in every three served onboard globally.
But like its rivals in airline catering, such as Do&Co and GateGroup , LSG is grappling with a shift from free airline food to buy-on-board that is forcing these companies to try to reinvent themselves.
"Transforming from a caterer to a retailer is a big challenge," LSG Group CEO Erdmann Rauer told Reuters in an interview at the group's headquarters just outside Frankfurt.
For example, packaging and the way the food looks become more important to entice passengers to spend the extra money, especially given how some love to share photographs of airline food on social media, he said.
Rauer said he expected 10 to 15 percent of the 14-billion-euro ($15 billion) global airline catering market to shift to buy-on-board.
LSG's purchase of Irish in-flight sales specialist Retail inMotion brought in Ryanair as a customer and also helped to provide retail and data analysis capabilities, Rauer said.
LSG is still achieving 4 percent growth in the traditional airline food business and is investing in more luxury meals for business and premium economy passengers, for instance for Chinese and Gulf carriers, as well as providing food for Lufthansa lounges in Munich and New York.
But it is also seeking contracts in other areas, such as catering for trains and convenience stores, counting German rail operator Deutsche Bahn, Britain's Virgin Trains, and 7-Eleven among its customers. Such deals would help to ensure continued work for the 210 kitchens it has around the world.
Airline catering, including buy-on-board, currently accounts for 85 percent of LSG's revenues. That should fall to about 75 percent over the next five years, with the rest coming from non-airline customers, Rauer said.
Union Investment fund manager and Lufthansa shareholder Michael Gierse said LSG needed to get its margin closer to those of rivals. LSG reported an operating margin of 3 percent in 2015, compared with rival Do&Co at 10 percent and GateGroup at around 6 percent.
"If they can reach 5 percent it would be a success," Gierse said.
Rauer said LSG's operating margin should rise again in the next three to five years. "Change costs money. It's a burden on profit but it's an investment to make the company fit for the future," he said.
Last year, LSG made adjusted core profit of 99 million euros, equivalent to 5 percent of Lufthansa Group's 2015 profit of 1.8 billion. Analysts value LSG at around 1 billion euros.
(Editing by Jane Merriman)