From One Dove to Another? Yellen is Frontrunner to Replace Bernanke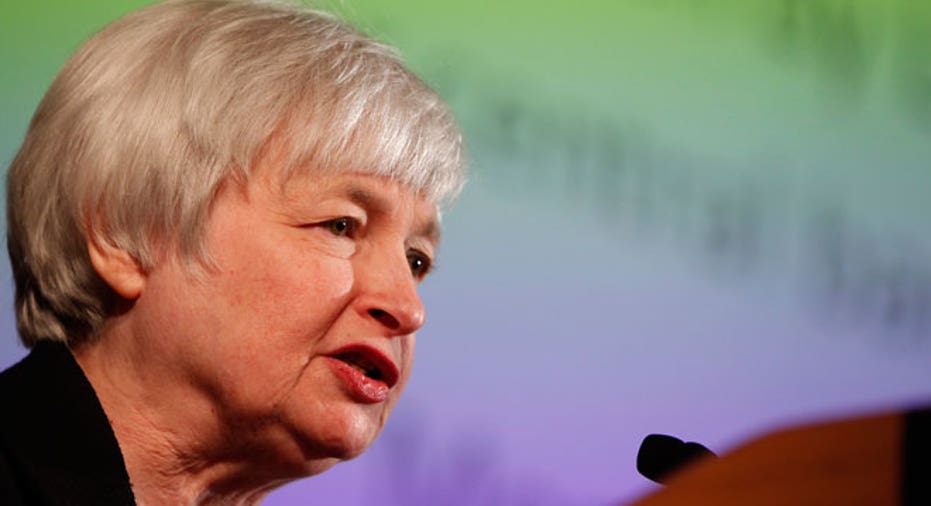 With Ben Bernanke's term poised to expire early next year, Wall Street continues to ponder who will be controlling the levers of the Federal Reserve's $3 trillion balance sheet in 2014.
It's possible that Bernanke, at the behest of President Obama, decides he wants to finish the historic job he started. But Fed watchers are betting the 59-year-old will hand over the keys to Janet Yellen, a central banker built very much in his own mold.
In addition to becoming the first female chief of the world's most powerful central bank, Yellen would represent a status-quo pick who would be welcomed by those seeking more quantitative easing, but only add to the sense of dread among those fearing a Fed-induced inflation spike or asset bubble.
"She's not a 180 from Ben Bernanke. I think they are kindred spirits," said Ernie Patrikis, former general counsel of the New York Federal Reserve. "The lady is eminently qualified."
Yellen, who Obama nominated as vice chair of the Fed in 2010, is now seen as the odds-on favorite to take over when Bernanke's term expires in January.
Forty-six percent of economists surveyed by The Wall Street Journal earlier this month predicted Yellen will be promoted by Obama, compared with 29% who said Bernanke will stay on and 25% who selected someone else.
Yellen, 66, is no stranger to the limelight, having previously served as president of the San Francisco Fed and chair of the White House Council on Economic Advisers in the Clinton administration.
Reliable Dove
Through speeches advocating aggressive policies and her consistent pro-action voting record on the Federal Open Market Committee, Yellen has made clear she has few qualms about deploying unorthodox moves to fight unemployment.
"I think she's been clear. She'd be very much a dove," said Dean Baker, co-head of the left-leaning Center for Economic Policy and Research.
Edwin Truman, a former Fed official who taught Yellen when she earned her Phd. at Yale, said: "No member of the FOMC would like to be classified as either hawkish or dovish. They all are rational thinkers."
"When the time comes for a change, will the people on the FOMC have the courage to make the change? I don't know that a hawk would have any more courage than a dove."
Yet it's clear that Wall Street views her as a steadfast dove and as a key messenger of Bernanke's intent. In fact, at one point between late 2011 and the middle of 2012, the Dow Industrials surged by a combined 1,100 points during or immediately after five-consecutive Yellen speeches on monetary policy.
In a speech last month, Yellen reasserted her dovish stance, making the case for why the Fed shouldn't rush to cut off QE too soon.
"I believe it's appropriate for progress in the labor market to take center stage in the conduct of monetary policy," Yellen said.
Talk Versus Action
But with many on and off Wall Street concerned about the Fed inflating a housing or stock bubble, some fear a Yellen-led Fed could be too slow to remove the easy-money punch bowl.
"I think she is a likely pick, but I think it is likely that under her leadership the Fed will overstay its welcome with increased accommodation," said David Jones, president of DMJ Advisors and a former Fed economist. "No one knows how difficult it's going to be to follow an exit strategy."
Even Baker, who would "absolutely" support a potential Yellen nomination, agrees that she's "willing to take that chance that she will be slower on the trigger."
"She's prepared to take some risk. In my view there is very little risk. We've never seen inflation just shoot up. That's not the way it works," Baker said.
The matter of QE risk is and will continue to be hotly debated in the financial world as Obama mulls over this pivotal personnel decision.
"When the time comes for a change, will the people on the FOMC have the courage to make the change?" said Patrikis, currently at partner at White & Case. "I don't know that a hawk would have any more courage than a dove. You can talk a good game, but you've got to do it."
Patrikis added that he doesn't see Yellen as "weak-kneed."
Outside of the philosophical debate, Yellen is seen as a front-runner in part because she has already been confirmed by the Senate, represents a known quantity and stands for continuity, three qualities incumbent presidents and bull markets tend to prefer.
"I can't imagine they wouldn't approve her as chair," Baker said of the Senate. "In terms of politically plausible candidates, I don't see anyone who would be better."
First Female Fed Chief
Yellen would also instantly become one of the most powerful females in the world as the Fed's first madam chairman.
Even though Yellen would reach this prominent role before the U.S. has elected a female president and before Wall Street has named its first female CEO, observers were mixed on the significance.
"It's always nice to break another glass ceiling," Patrikis said, "but to me, it's a nonevent." He said, "The question is: Is she the right person at the right time? I couldn't say no to that."
Baker said he believes it would be "a big deal" for Obama to nominate the first female Fed chief, adding that "it's an area that continues to be overwhelmingly male."
Yellen has been mum on the issue, but Truman said, "She doesn't see herself as some great path breaker even though no doubt if she were nominated and confirmed, people would say: Janet Yellen, the first woman chairman of the Federal Reserve Board."
Alternative Fed Chiefs
It's certainly not a done deal that Yellen will be the next Fed chief.
Other potential replacements for Bernanke include ex-Treasury Secretaries Larry Summers and Timothy Geithner, influential Princeton economist Alan Blinder and Roger Ferguson, a former Fed vice chair appointed by Clinton.
It's also possible that Bernanke indicates he'd like a third term to finish the job he started.
But Bernanke has said he's not indispensable, paving the way for Obama to select a successor.
"He should get some credit, in my view, for pulling us back from the abyss and at least getting the recovery going," said Jones, adding that he'd give Bernanke an "A-"for his job as Fed chief. "Why not quit while you're ahead?"